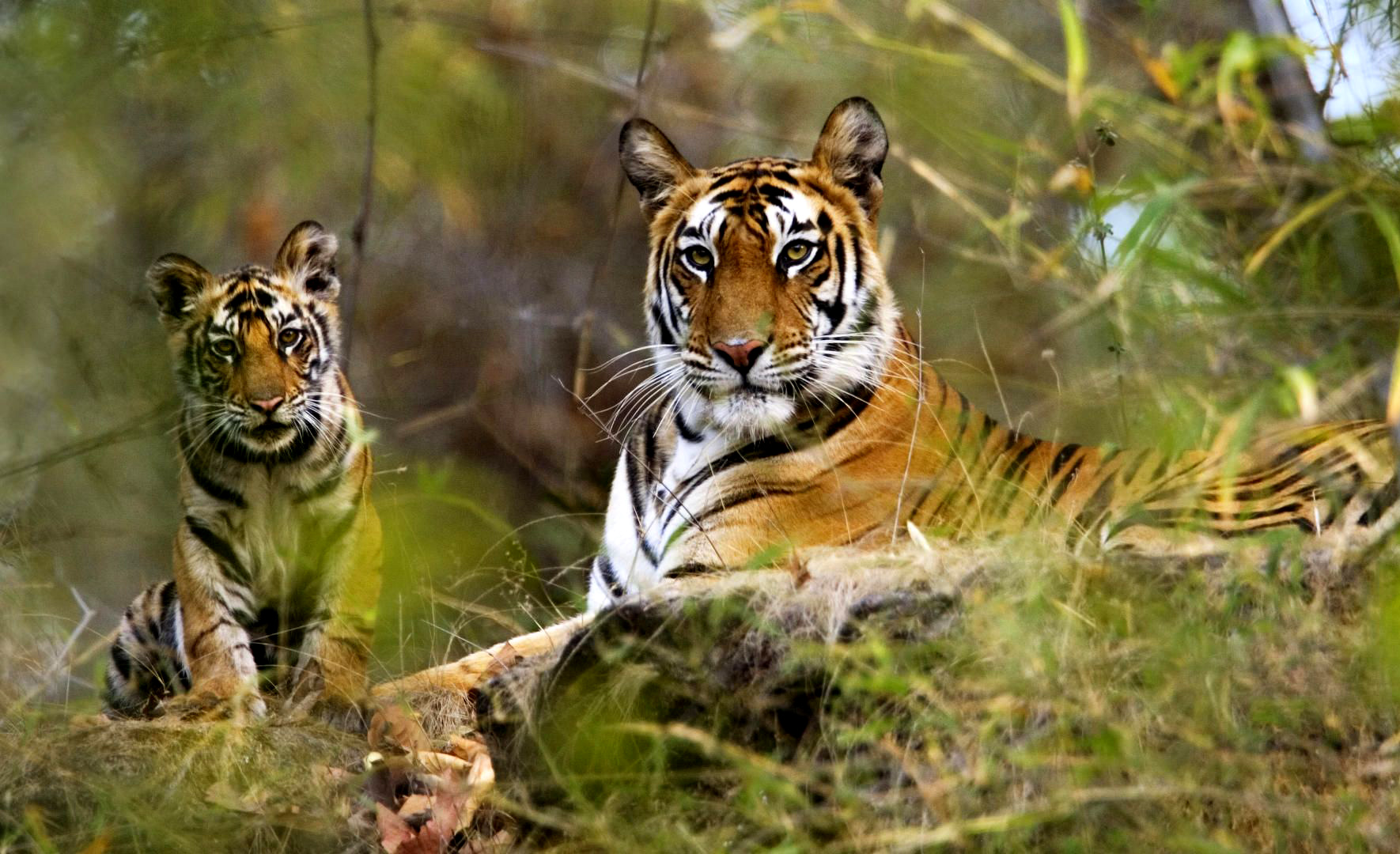 Bandhavgarh National Park, a wildlife sanctuary, is located in Madhya Pradesh, at a distance of 197 km from northeast of Jabalpur. The national park gets its name from the old fort present in this area. Belonging to the Vindhyan mountain ranges, the national park boasts of for providing shelter for the highest density of tiger population in India. On an average, one could spot around 46 to 52 tigers in the park.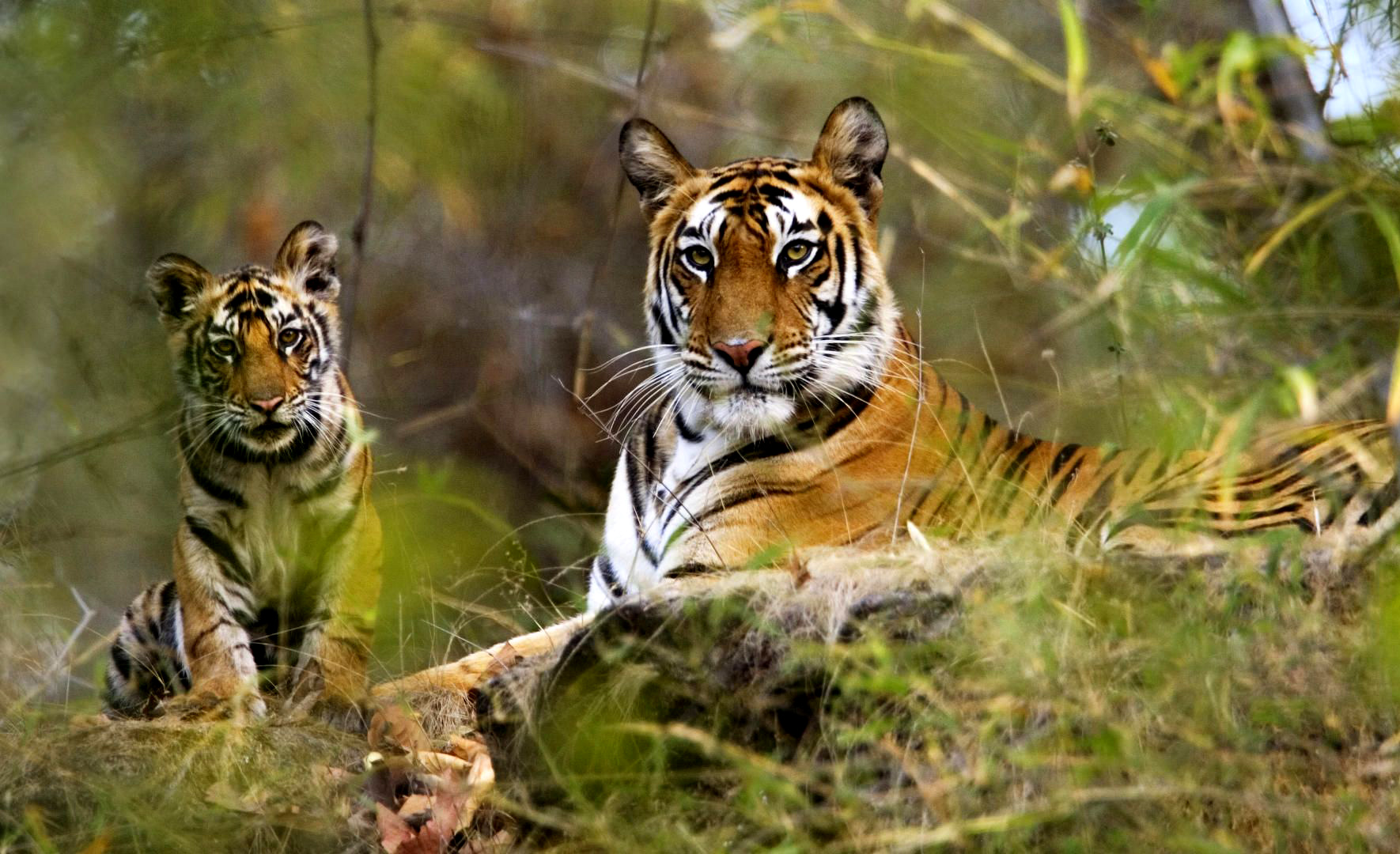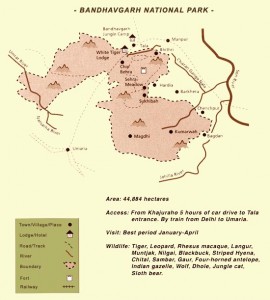 Bandhavgarh National Park Travel Facts
Location: Madhya Pradesh, India
Highlights: Tigers, Leopards, Deers and over 250 bird species
National Park Area: 446 sq km
Tiger Reserve Area: 437 sq km
Altitude: 800 m above sea level
Eco-Region: Moist Peninsular low level Sal; Wet Gangetic moist mixed deciduous forest.
Terrain: Dense green valleys and rocky hill terrain
Best Season: February-June
Closed: July – October
How to Reach Bandhavgarh National Park
Air Deccan directly connects from Delhi to Jabalpur, thereafter, about 4-5 hour road trip to reach the Bandhavgarh National Park. Bandhavgarh could also be reached by railways from various major cities of India. Umaria (45 minutes) and Katni (2.5 hours) are the nearest railway stations.
History 
The dense forest of Bandhavgarh National Park is encircled by wooded Vindhyan Mountains and the cliff. Grass and Reed cover the wetlands on the plains where Egrets sit poised and Kingfishers dive. In the sheer cliffs the vultures also nestle in the holes.
The large Bandhavgarh jungle is more like a living self-sustaining organism, which provides its own atmosphere, climate, water and nutrition with its recycling systems. The jungle also has a sleep wake cycle. The Bandhavgarh begins to wake up as the sky fills with more light.
Book your India wildlife tour with our exclusive holiday packages.
Climate : As the Bandhavgarh National Park is located on the extreme north-eastern border of Madhya Pradesh and the northern regions of the eastern Satpuda mountain range. Bandhavgarh National Park experiences north Indian monsoonal climate. Thus, well-defined summers, winters, and rains are witnessed in this region. The temperature drops upto 2° C during winter, in the months of January and it goes upto 45° C during the summers. The average rainfall recorded is 1133 mm. The southern cyclones, between November and February, also result in rain in this region.
Flora :

When the Bandhavgarh National Park constrained to an area of 105.40 sq km and 25 resident Tigers, the park, was acclaimed for its high-density tiger population. Later, with an extension in the area to 437 sq km, fine trees of Sal cover almost half of the Bandhavgarh National Park, although in the higher reaches of the hills, mixed forests are found. In the north of the park, there are extended stretches of bamboo and grasslands. The core of the park is explored during the main wildlife viewing, which showcases about 32 picturesque wooded hills.
Fauna :-

The present Bandhavgarh National Park was initially a hunting reserve of the royal family of Rewa. In the year 1968, the Bandhavgarh was declared as a national park. Here, the famous White Tigers of Rewa were also sighted. The chances of spotting tigers, while enjoying elephant safari, is quite possible. Apart from tigers, one could also spot Nilgai, Chital, Chausingha, Chinkara, Fox, Jackal and Wild Boar. The national park provides shelter for almost 22 species of mammals and 250 species of birds.
Birding in Bandhavgarh National Park
Bandhavgarh National Park is a paradise for ornithologists and bird lovers. The admixture of thick tropical forest, scrub, fields and wetlands, make the national park a sought-after habitat for various native and migratory birds. The riparian vegetation along the marshes and streams also provide a predominantly rich and natural habitat for almost 250 species of avifauna. Some of the birds spotted in the national park are Pied Kingfisher, Common Sand Piper, Tree Pipit, Pied Starling, Verditor Flycatcher, Rose Ringed Parakeet, Jungle Myna, Green Sand Piper, Bank Myna, Eurasian Thicknee, Black Headed Oriole, Temminck's Stint, Olive Backed Pipit, Wood Sand Piper, Barred Button Quail, Comb Duck, Common Myna, Ruddy Shellduck, Black Rumped Flameback, Golden Oriole, Black Naped Monarch, Barhminy Starling, Red Vented Bulbul, White Browed Fantail Flycatcher, Little Green Bee Eater, and many more.
| | | |
| --- | --- | --- |
| Golden Oriole | Bee Eater | Verditor Flycatcher |
Jeep & Elephant Safari in Bandhavgarh National Park
Jeep Safari and Elephant Safari are the two best ways to enjoy Bandhavgarh National Park expedition. During the early morning hours till evening, the visitors could enjoy Jeep Safaris in the park. A guide from the forest department is provided along to help the help the visitors enjoy the excursion of the park on these jeep trips. If you are interested in tiger tracking, early morning Elephant safari trips are organized.
Entry Fee at Bandhavgarh National Park
There have been amendments made in the entry fees to Bandhavgarh National Park in October 2011. A separate fee is to be paid for jeep hire and entry while going on a jeep safari. Jeep entry in Tala (the park's premium zone, with higher-density tiger population), six people per jeep costs to INR 4,000 for foreigners and INR 2,000 for Indians. Tariff for per child is INR 2,000 and INR 1,000 respectively. In case, there are foreigners and Indian visitors in a same jeep, the foreigner rate would be applicable. Around INR 1,800 is required for jeep hire, which is an additional cost upon entry. The payment could be made at the entrance of the park, before starting the safari trip. Alternatively, the hotels also provide jeep hire and tours as a recreational facility.
Also read about Top 10 Wildlife Sanctuaries and National Park in India.