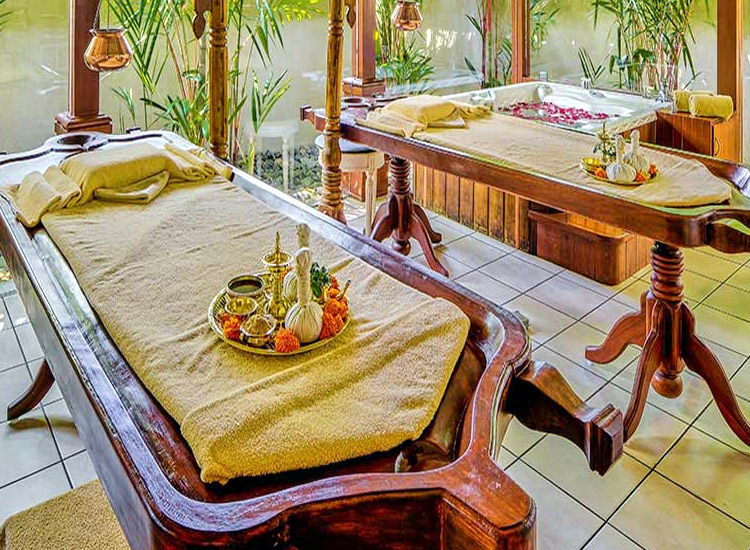 Nothing is more relaxing and rejuvenating than staying at an Ayurveda retreat. These resorts combine the pleasures of a relaxed stay with the healing benefits of Ayurveda. Their incredible locations and outstanding hospitality enhance the experience of the visitor. What the Ayurveda retreats provide is more than just external healing, they seek to bring about a communion of the body and mind against a perfectly tranquil setting. Your days and nights are spent in complete bliss and peace, away from the constant tension and commotion of city life. If you have been looking for such an experience but are unsure of where to go, this blog is for you. Here we bring you the best Spa & Ayurveda retreats in India that live up to their name and give you exactly what you are looking for – complete happiness!
Somatheeram Ayurvedic Village, Kerala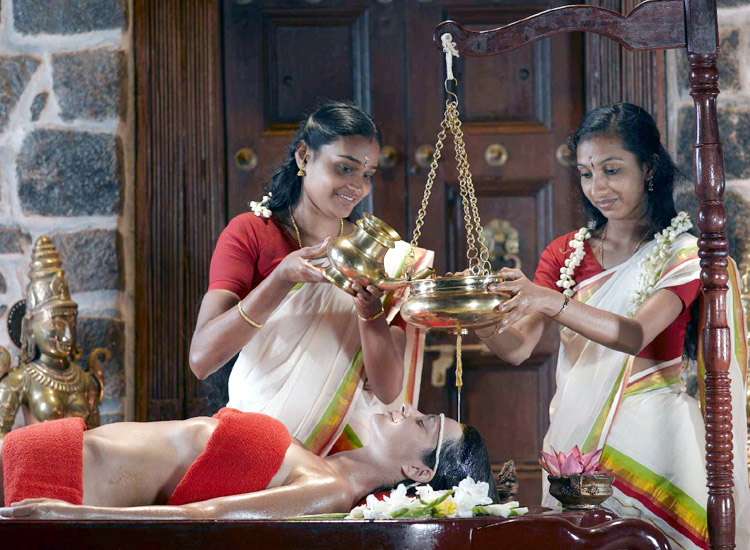 Somatheeram Ayurvedic Village, situated by the serene ambience of the Kovalam Beach, is regarded as one of the best Ayurveda resorts in Kerala. For over 20 years, it has been leading the way in Ayurveda treatment, healing and rejuvenation. The Ayurvedic treatment offered here lasts for 7 to 28 nights and is geared towards removing skin diseases, controlling obesity, leukemia, diabetes and sports injuries, apart from others. All the Ayurveda packages here also include Yoga and meditation classes. Upon booking a stay of 14 nights or more, the guests enjoy a complimentary boat tour.
Ananda in the Himalayas, Uttarakhand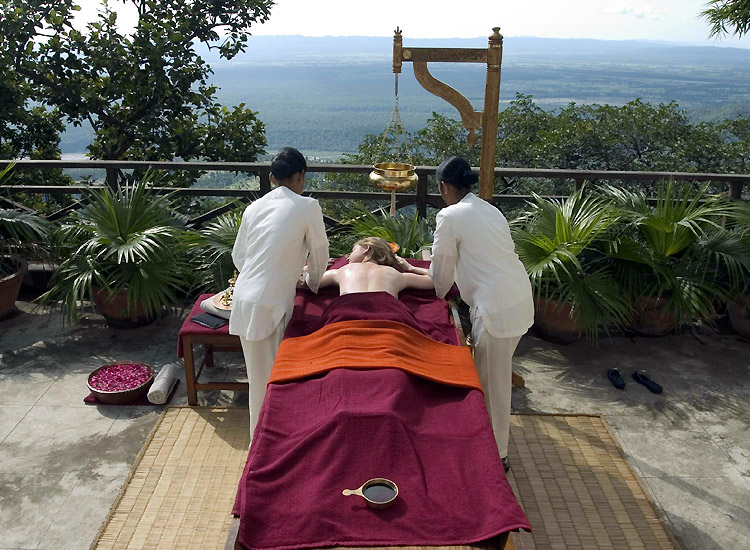 Ananda in the Himalayas, located on the foothills of the Himalayas and spread over an area of almost 24,000sq.ft, is counted among the best Ayurveda retreats in India. Various kinds of therapies including Yoga, Vedanta and Ayurveda are combined to create a personalised plan to bring about the complete invigoration of the mind and body. The treatments here range from de-stressing, detoxing and deep relaxation to various kinds of anti-aging treatments. There are a total of 24 treatment rooms and qualified therapists that bring about holistic well-being. Further, a variety of fitness activities along with a temperature controlled lap pool are also found inside the resort.
[Get rejuvenated at Ananda in Himalayas with this package.]
Carnoustie Ayurveda & Wellness Resort, Kerala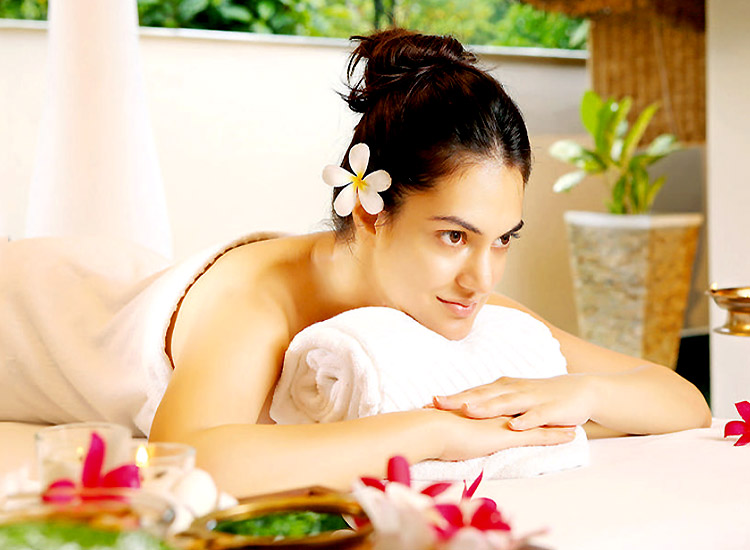 Carnoustie Ayurveda & Wellness Resort, located at Marari Beach, sets the benchmark in ultimate luxury and pampering. An award winning Ayurveda retreat, it is located amidst the fabulous natural settings of Kerala. The list of holistic treatments provided here range from yoga, mantra, Ayurveda and naturopathy. In addition, the guests are also provided with an Ayurvedic diet keeping in mind their physical requirements. From detoxification to healing, the resort offers a wide variety of programs.
Kalari Kovilakom, located in Palakkad in Kerala, is one of the best spa and wellness retreats in India for Ayurvedic healing. Here, healing and rejuvenation comes with a difference. Upon arriving at this resort and during the entire duration of your stay, you are required to take off your shoes and wear mat-soled slippers, or remain barefoot. All these steps are intended towards achieving a reawakening of the mind and soul, and most of all, connecting with nature. Internal healing is achieved by personalised herbal preparations and food after a purifying bath and herbal massage. The evenings are marked by simple chanting of hymns that flood your sense with tranquillity and serenity.
[Give relax to your all senses with Rejuvenating Kerala Ayurveda tour.]
Soukya Holistic Health Centre, Bangalore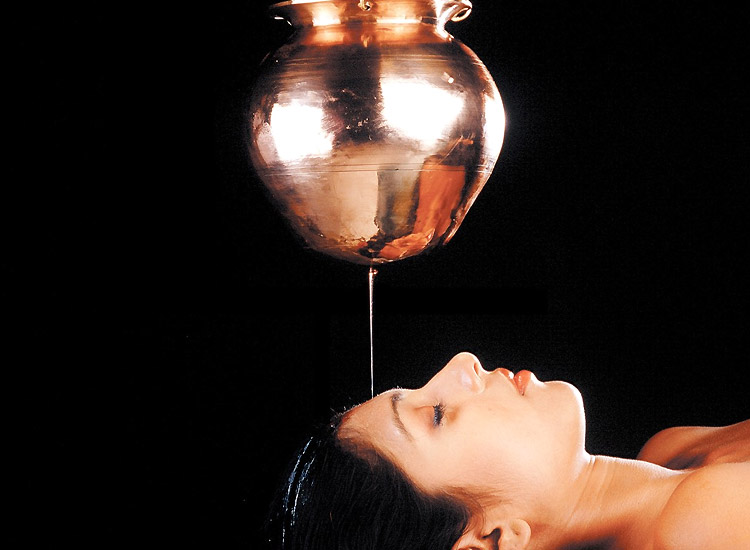 Located on the outskirts of Bangalore, Soukya Holistic Health Centre in Bangalore is undoubtedly one of the best Ayurveda retreats in India. Spread over an area of almost 30 acres, this health centre is dotted with fountains and gardens. The wellness packages here include yoga sessions, specially prescribed meals, meditation classes and other kinds of Ayurvedic treatments using oil and other materials. Treatments of every kind, from oil mixtures to the kinds of meals served, are prescribed to the patients after keeping their particular physical disposition.
Vana Malsi Estate, Uttarakhand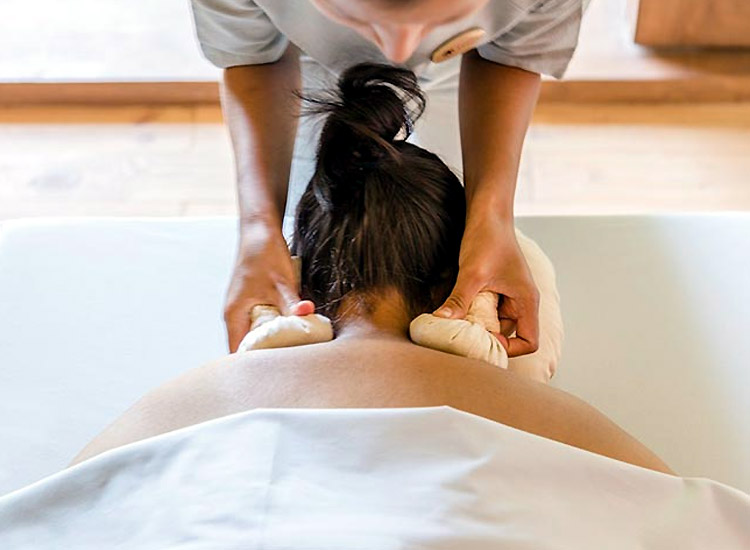 Vana Malsi Estate, located in the Himalayan foothills of Uttarakhand, endears itself to its visitors with outstanding treatment facilities. Quite fittingly, Conde Nast Traveller once hailed Vana Malai Estate as a "five-star ashram", and they couldn't have been more right. The resort is tucked away within mango and pleasant smelling lychee forests. At Vana Malsi Estate, Ayurveda and Yoga is practiced in its traditional form. The patients are also offered the benefits of traditional Chinese medicine, naturopathy and homeopathy. Further, Vana is one of the few places in the world where Sowa-Rigpa is offered. Along with these, there are a variety of complimentary therapies and movements which are aimed at providing a holistic treatment to the guest.
[Plan your Yoga & meditation tour to Uttarakhand with us.]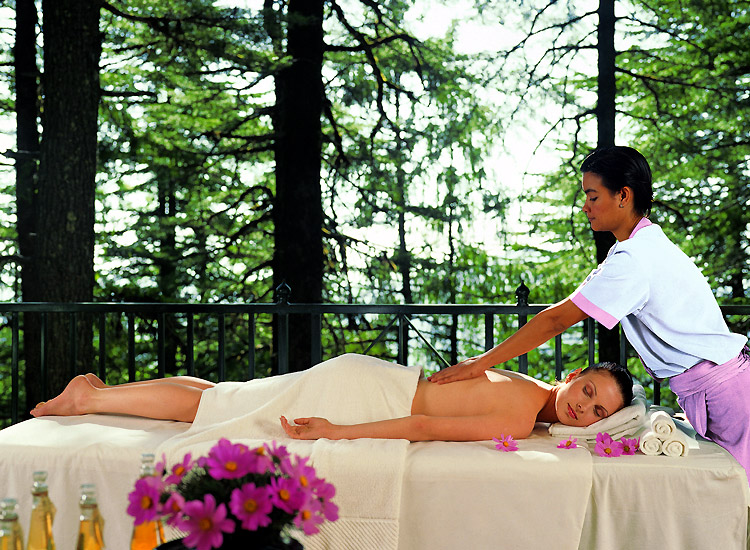 To experience complete bliss and solitude, make your way to Wildflower Hall, located at an altitude of almost 8,000ft in the Himalayas. Wildflower Hall, one of the best spa resorts in India, offers you outstanding views of the mountains that Shimla is so famous for. The various kinds of massages offered here range from Ayurveda, Hungarian, Balinese and Thai, besides others. Signature Indigenous Rituals, tailor made to suit your body type, are also offered to the guests. They comprise four steps, including an Indian head massage, a herbal poultice massage, an exfoliation session and a hot water bath. Special massages along with detoxifying body wraps, anti-ageing therapies and skin and nail care are favourites of the guests.
Spa Esencia, The Terraces, Kanatal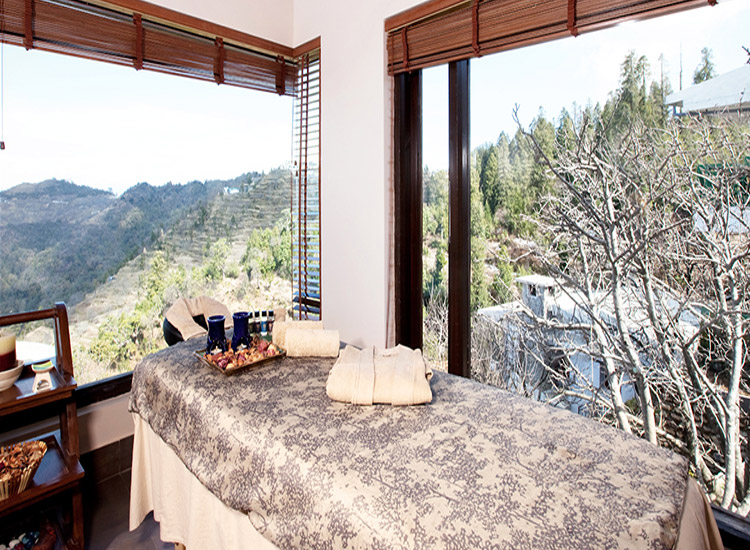 The Terraces is a boutique spa resort set amidst the fascinating wilderness of Uttarakhand. Spread across five acres with magnificent views of the Himalayan peaks, the resort boasts 20 rooms and a suite with brilliant facilities. The main spa of The Terraces, called Spa Esencia, is situated on the highest terrace of the resort and provides exotic body pampering treatments. The spa, on the highest terrace of the resort, consists of a unisex Jacuzzi. There is a separate sauna and steam for different gender. The various kinds of treatments available include a range of body therapies including hydrotherapy baths with mineralizing salts. Further, there are Thai massages, traditional massages as well as body wraps and exfoliants available at the resort. The signature treatments seek to provide a holistic experience based on individual requirements.
Niraamaya Spa – Surya Samudra, Kovalam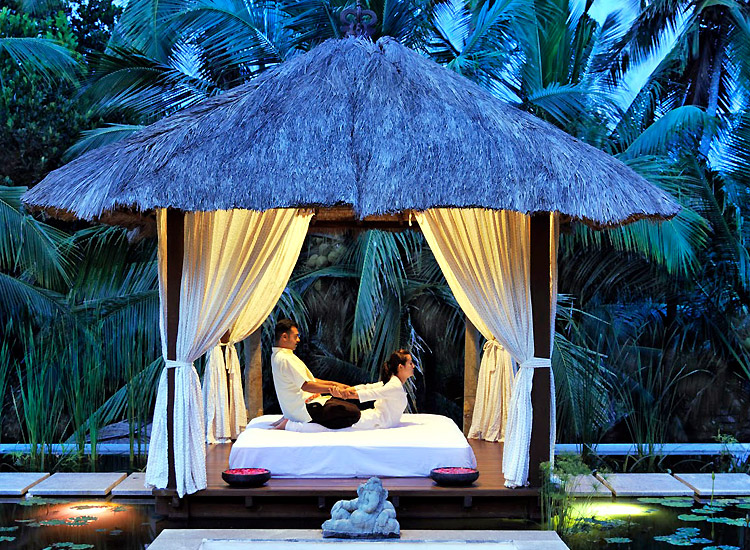 The award-winning Niraamaya Spa in Kovalam is an award winning spa and one of the best spa and Ayurveda resorts in India for experiencing complete rejuvenation. Seated on a dramatic cliff-edge surrounded by secluded beaches, Niraamaya Spa is a combination of traditional and contemporary therapies, and personalized wellness experiences that touch both the physical and spiritual dimensions of the body. The spa offers a variety of signature therapies like Spice Magic and Thaimaya that seek to eliminate toxins and provide a feeling of complete relaxation. Besides these, different kinds of Ayurveda massages provide holistic healing. In addition, a range of skin and hair rituals, with the help of Ayurveda herbs and botanicals, revitalize the skin and hair.
[Have a look at the most beautiful places of Kerala.]
Moksha Himalaya Spa Resort, Himachal Pradesh
Moksha Himalayan Spa Resort, located at an altitude of almost 5000ft above sea level, offers you the combination of incredible sights and Ayurveda therapies that reinvigorate the mind and body. The spa treatments at Moksha seek to rejuvenate, remerge and replenish all your body and mind. The spa consists of luxurious therapy rooms with some of them dedicated to Ayurveda, Oriental systems including Shiastu and Balinese treatments along with European systems of holistic health. In addition, an experienced team of qualified nutritionists, Western and Ayurvedic physicians and spa therapists guide you all the way towards achieving complete rejuvenation and revitalization.
ESPA Spa – The Leela, Udaipur
ESPA spa at The Leela Palace in Udaipur, helps its guests enjoy a personal spa experience using treatments that blend latest scientific advances with Ayurveda and European therapies, and is one of the best spa resorts in India. Perfect balance and equilibrium is achieved within the body with a range of natural, high quality skin products, anti-stress oils and cleansing muds, among others. Further, the luxurious spa suites give you complete privacy to enjoy the various spa rituals. The Ayurvedic Abhyanga treatment commences with a luxurious foot ritual, and after establishing your Dosha type, ends with a Shirodhara treatment.
[Discover things to do in Rajasthan.]
The Zuri Kumarakom Resort & Spa, Kerala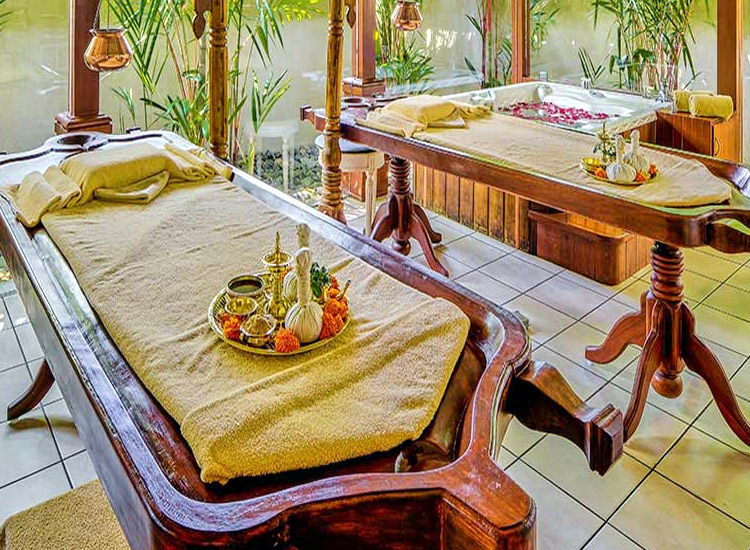 The Zuri Kumarakom Resort and Spa, situated by the shores of the Vembanad Lake, lets its guests absorb the spectacular natural beauty of Kerala. Maya Spa, the resort's very own spa, offers you a wide range of specialized treatments that eliminate all your tensions. A variety of Ayurveda treatments, combined with a range of specialized treatments, leave you feeling completely rejuvenated. There are a range of massages to choose from, along with a series of Ayurvedic therapies. To lend your skin that fresh, healthy glow, various kinds of skin care therapies are also provided at the spa.
Khyber Resort and Spa, Gulmarg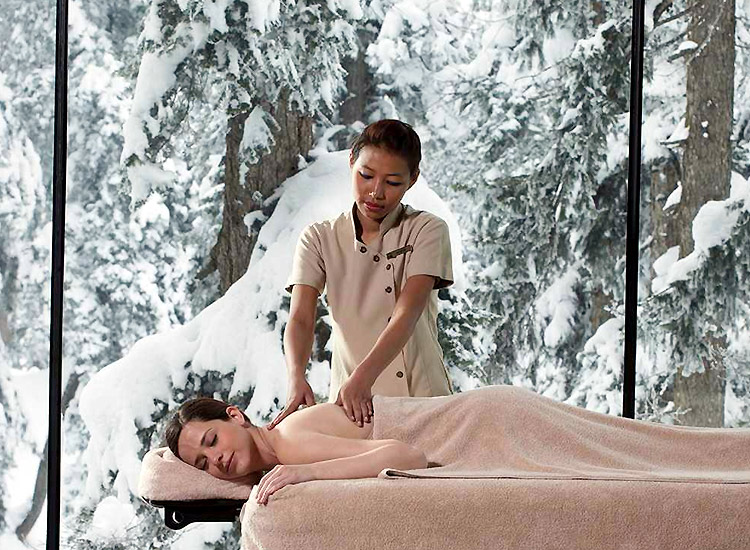 Khyber Resort and Spa in Gulmarg, located at an altitude of almost 8,825ft, is a world-class resort whose luxuries inside reflect the grandeur of the surroundings outside. The 85-room resort is dressed in luxury with its fabulous interiors, excellent cuisine and outstanding treatments. The Khyber Spa by L'OCCITANE takes you on a journey of holistic wellness and rejuvenation. Here, you are helped to a variety of rituals inspired from various regions of France. The signature treatments provided here require the guests to choose from various kinds of home grown seasonal flora mixed with L'OCCITANE products and fresh Himalayan water.
Nattika Beach Ayurveda Resort, Thrissur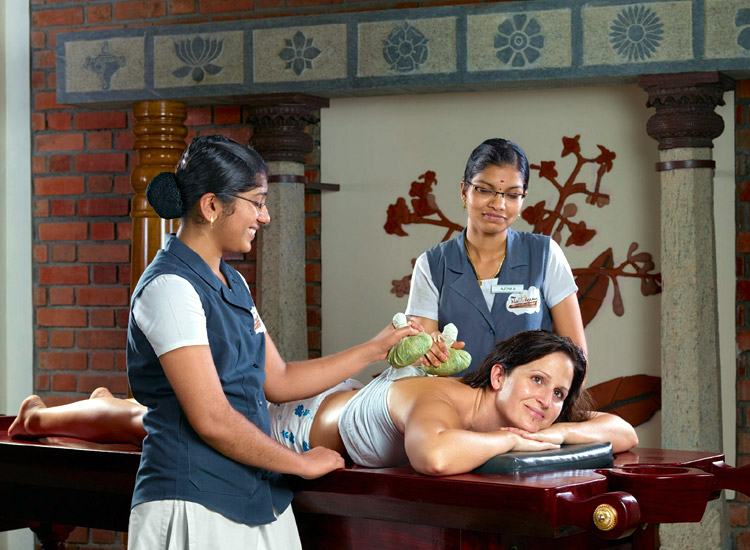 Nattika Beach Ayurveda Resort, located on the shores of the lovely Nattika Beach in Thrissur, creates a perfect environment for a complete Ayurveda and Yoga experience. It is one of the best spa and wellness retreats in India. At this resort, different kinds of Ayurveda treatments and programs are provided by the resort's doctors at the Ayurveda centre, "Swastha". At Nattika, specialized therapies of Ayurveda called Panchkarma is practiced not just for the elimination of diseases but for promoting health. However, the doctors ask your medical history and conduct an examination before undertaking any kind of treatment. The Ayurveda treatments are carried out by a team of 51 massage therapists. The Ayurvedic Centre has a very traditional feel to it. Further, at the Yoga Center here, located by the beach, Yogacharya Guruprasad guides you through various Yoga and meditation sessions.
Shinshiva Ayurvedic Resort, Kovalam
Shinshiva Ayurvedic Resort is an Ayurvedic spa that provides you magnificent views of the Arabian Sea. Guests staying at the resort experience the best that the Indian system of medicine has to offer. A stay at this resort isn't just about rejuvenation, but also unwinding and enjoying a holiday of a lifetime. The various treatments offered at this resort are directed towards eliminating a variety of ailments including paralysis, rheumatism, joint stiffness and mental tension, among others. Further, therapeutic packages for general rejuvenation, beauty care, longevity and slimming, besides others, are also provided at the resort.
Kandamkulathy Ayursoukhyam Ayurveda Health Resorts, Athirappilly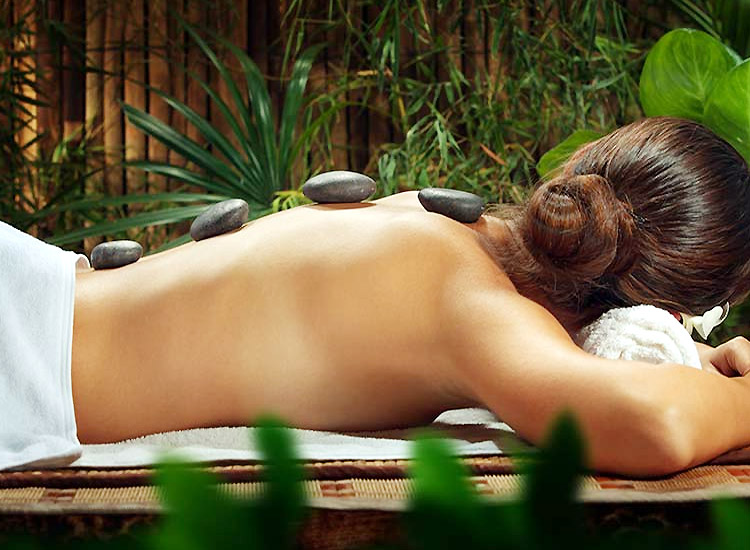 Kandamkulathy Ayursoukhyam Resort, situated in the middle of an herbal garden on the banks of River Chalakkudy, aims to create a perfect amalgamation of nature and health. Guests are provided all kinds of Ayurveda and Panchakarma treatments. Certain special treatments contained in ayursoukhyam, an age-old tradition, is still practiced in its most authentic form. The various kinds of special treatments provided at the resort are, Soothika (Post natal care treatment for mother and child), Vayodhika (Old age care), Computer Related Injuries (For Software & IT professionals), Family Health Packages (For entire family health and well-being), Sports & Fitness Programme and Child Care Package.
The River Retreat Heritage Ayurvedic Resort, Cheruthuruthy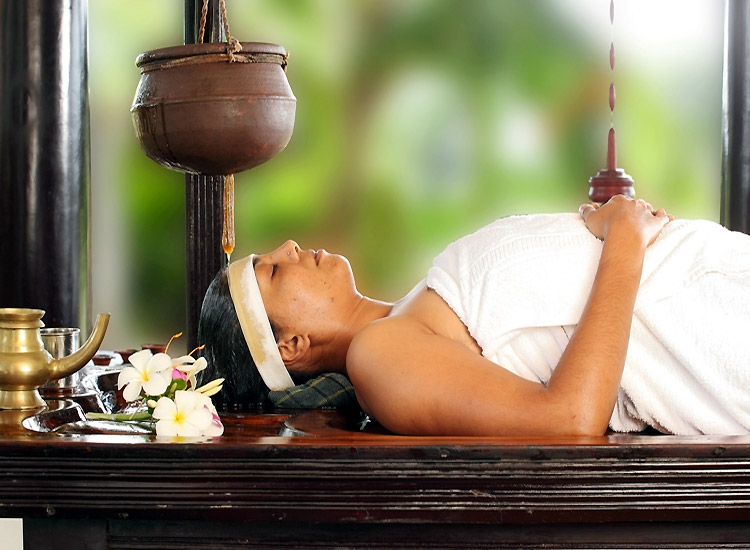 The River Retreat Heritage Ayurvedic Resort in Thrissur, the capital cultural of Kerala, is housed inside a 4-star Ayurveda resort which once served as the summer palace of the Maharajas of Cochin. The resort is visited by tourists who want to get a royal feel of the palace, stay close to nature and enjoy the innumerable healing effects offered by the resort's Ayurveda programs. Staying close to nature allows the guests to experience a rejuvenating effect on their bodies and tired minds. The serene environs of the resort also has a soothing effect on the body, both mentally and physically. There is a wide range of Ayurveda packages to choose from, depending upon your duration of stay, budget and goals, besides other factors. Further, a team of skilled masseurs with massive experience leaves you feeling completely revitalized and rejuvenated.
Kairali – The Ayurvedic Healing Village, Kerala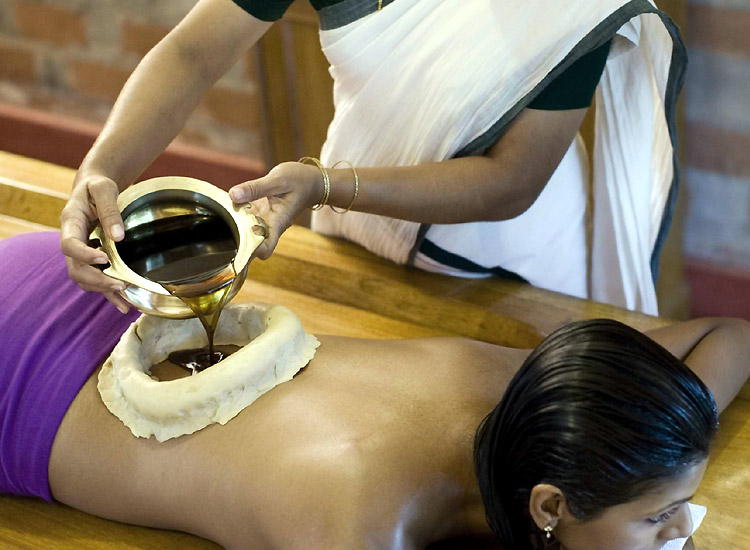 Kairali's Ayurvedic healing Village is located in Palakkad. Staying at the resort places you in the lap of nature and lets you enjoy the natural healing that everyone is desirous of experiencing nowadays.  A stay here not only lets you benefit from the healing practices of ancient India but also relax and enjoy in the midst of luxurious amenities. At the Kairali Ayurvedic Healing Village, one of the best Ayurveda retreats in India, you benefit from the best Ayurveda treatments and medicinal massages. An excellent team of doctors and therapists ensure that highest quality in treatment and medicinal preparation is maintained all the time. In addition, various kinds of health and beauty care packages are created to help the guests eliminate stress, respiratory problems and eye ailments, besides others.