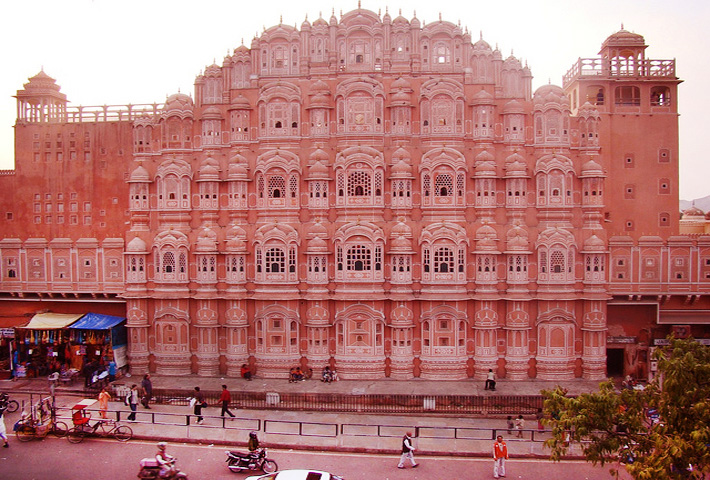 If you are planning for a detailed tour across Rajasthan, then without any more sentences to add in describing the place, let's hit on the point by explaining the most exquisites in the Land of Raja's. A historically rich state, it has been bestowed by the most prolific by gone eras best monuments, Palaces, temples, flora, fauna and lots more. Your eyes are going to be curious after witnessing the carvings and paintings in the forts and palaces or temples one by one. And ears are going to listen attentively about the historical evidences and stories each and every forts and minarets hold in their credits. Get ready for the Royal ride of Rajasthan!!
Let me note down the most popular places and spots that are always invaded by tourist all over the world. Dilwara Temple, Lack Palace Hotels, City Palaces, Jaisalmer Havelis, Pink City of Jaipur, Sheesh Mahal, Albert Hall museum, Jal Mahal, Jain Temple, Fateh Prakash Palace, Patwon ki Haveli, Umaid Bhawan Palace, Abhaneri Step well are among the most visited destinations. But what else to plan for Rajasthan?? This kind of thought might pass by. So below are the lists of some much exquisite and enthralling point where one can collect a lot more memory by the means of photography, videos or just get memorized.
A list has been cited below that explains the major tourist attractions in the largest state of India where travel and tourism department is the lifeline. Every year both national and international tourists flourish in abundance. This western part of India is actually famous for its heroic royal past, Spectacular tradition and its exclusive art and culture. So do not miss the golden opportunity of the stunning Rajasthan tour!    
[ You may also check out some tourist places in Rajasthan ]
Top 7 Rajasthan Tourist Attractions and Places to Visit 
Hawa Mahal; Jaipur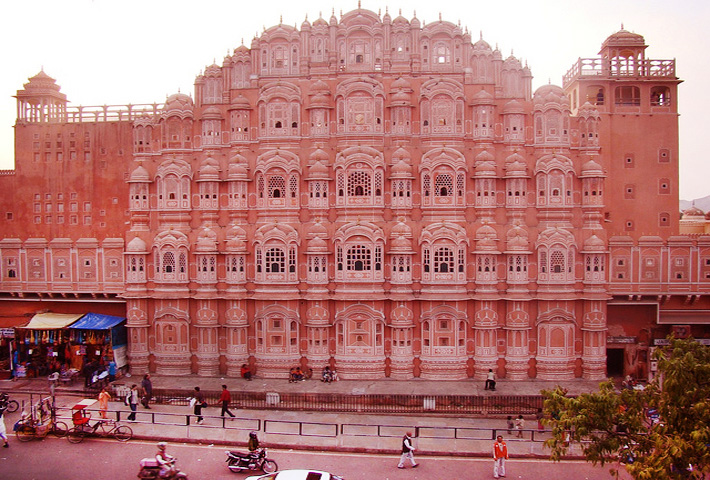 Whether you have a guide in the tour or if you do not have one, doesn't matter. All you know from your general knowledge that Hawa Mahal; a five storey building with 963 jharokhas (windows) which rises to about 50 feet above ground level is a magnificent one piece in the world that gives a pleasing pleasure once you are there and peeping below from a jharokhas. The first thing that one tries! 
Jantar Mantar; Jaipur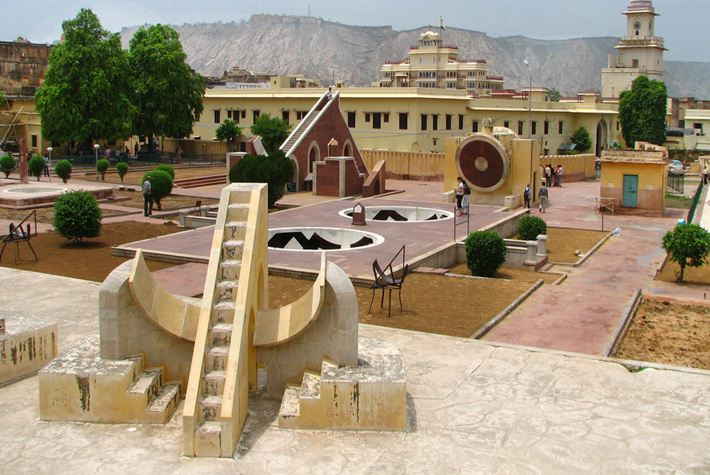 The UNESCO claimed World Heritage Site gives you the accurate information about Astronomy and the stars. You will be fascinated by the science behind it and how accurately it was designed without the help present day's geometrical objects.
Amber Fort; Jaipur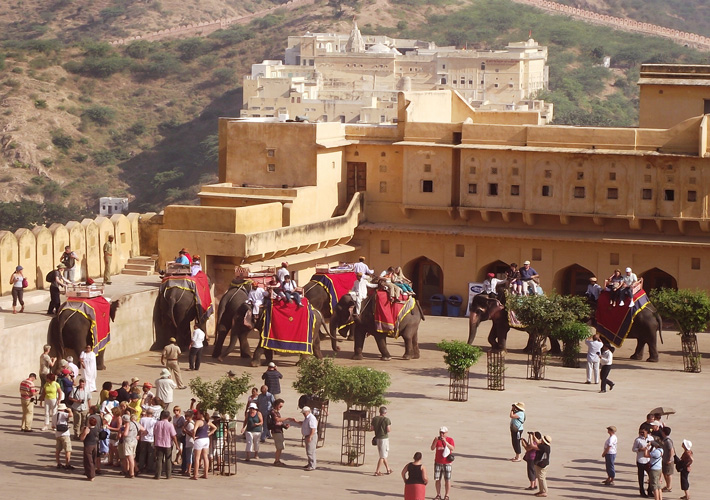 When a thought passes by about Amber fort, suddenly a string strikes about the Elephant ride throughout the fort. Sitting on this giant makes you feel a Raja or Rani with the urban touch. Built by Raja Maan Singh is a royal architectural indication that you are going to preserve in your memory forever.
Monsoon Palace; Udaipur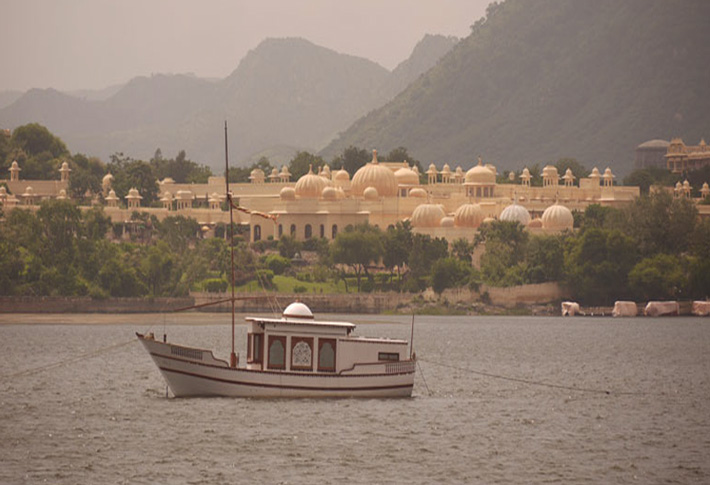 The grandiose Monsoon palace in Udaipur gives a very pleasant view of the entire lakes and palaces in the city because it is squatted atop the hill. A prolific badge of the Mewar rule, originally this palace was built to trail the monsoon clouds in the old time. The pleasant timing to gaze at this palace is in the evening with the sun gives an illuminating experience as a hole.
Chittorgarh Fort: Chittorgarh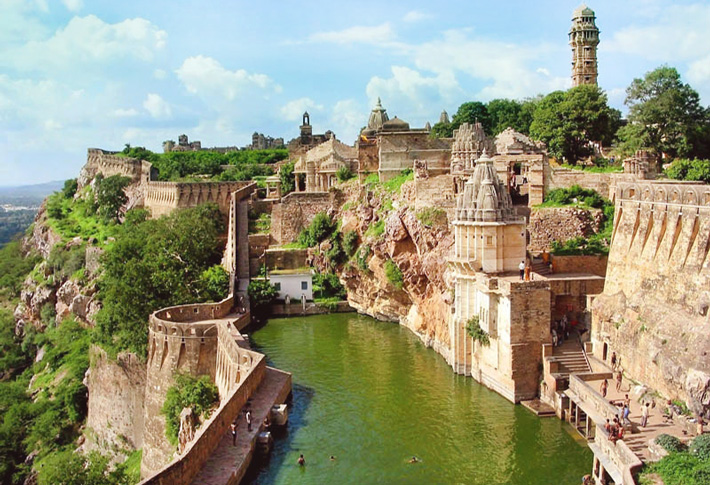 The prestigious Chittorgarh Fort is situated in Chittorgarh is a magnificent epitome of architecture of the ancient times. There are many tall building inside the fort with many water bodies that are surely going to intricate you. Try visiting here in the evening, the light and the reflection is going to play an illusionist role to your eyes giving a pleasant feel.
Meherangarh Fort; Jodhpur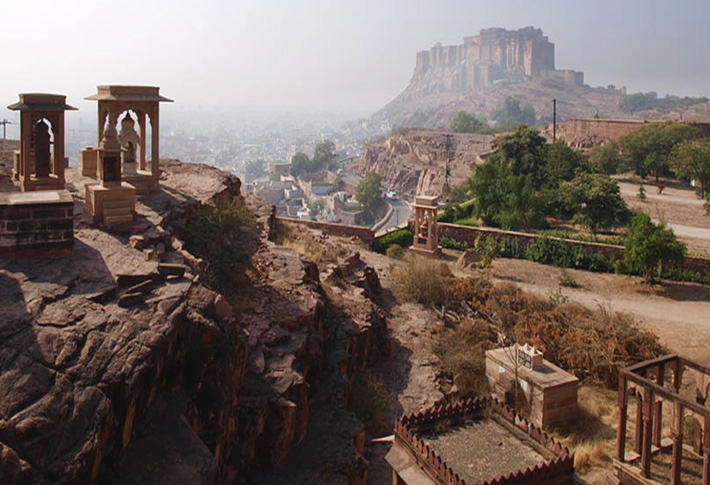 The most prolific, spectacular, gorgeous, whatever adjectives that you might add are going to short fall the beauty in one of India's largest Fort located in Jodhpur stands with all the pride and galore in its credit of royal Rajasthan. View from the fort is to die for.
Jodhpur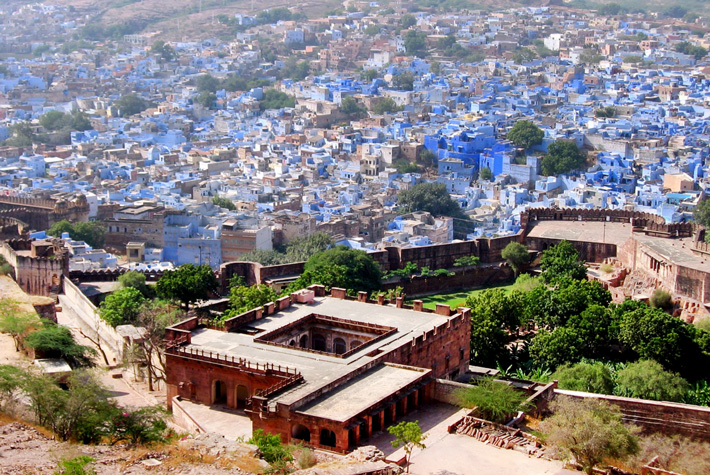 Remember a Pepsi ad with blue houses at the background? Yes, it's Jodhpur. If Pink City is Jaipur; then definitely Blue City is Jodhpur. Almost every house is painted blue which gives a pleasant calm to eyes. Rush to see the view in breaking of dawn; I mean when sun is about to rise. Witness the visual pleasure this huge fire ball creates during the rising is a moment to capture and preserve.
[ Also check out top 10 Tourist Attractions during Rajasthan ]
What are the things to do at Rajasthan
Camel Ride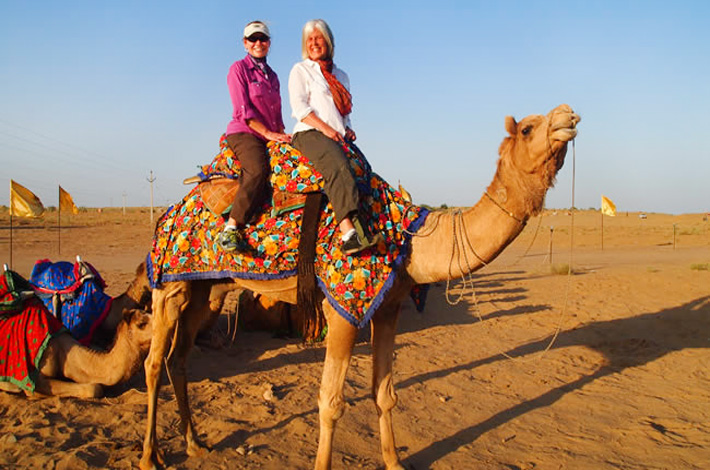 Experience the desert safari in the hump back of camel which makes you mark as one of the most important typical bucolic experience in Rajasthan. The good areas for these safaris are in Jaisalmer, Osian and Bikaner. Explore some remote places while you are in the desert and know the interesting stories behind the places which are surely going to captivate you in a long run.
Pushkar Fair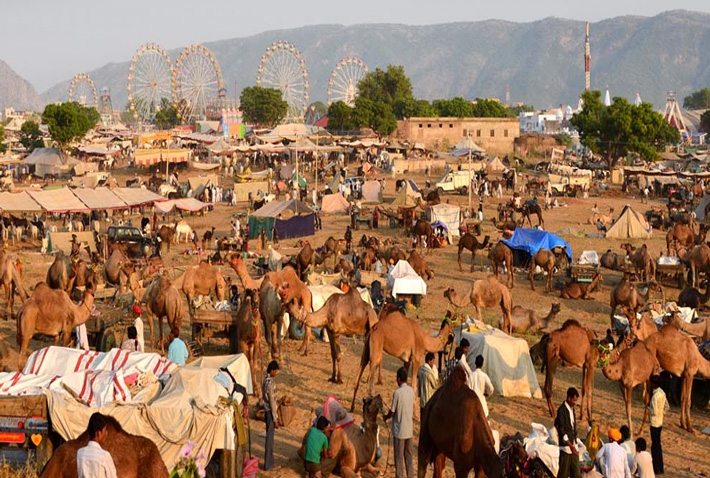 The most renowned fair that attracts about hundred thousand tourist all over the globe gets assembled in these five days of extravaganzas. Though it is a camel and livestock fair, but there are many other activities that take place and will amuse you in participating in everything. The fair takes place between the months of October and November where you can witness the most authentic yet traditional dance forms. 
Hot Air Balloon Ride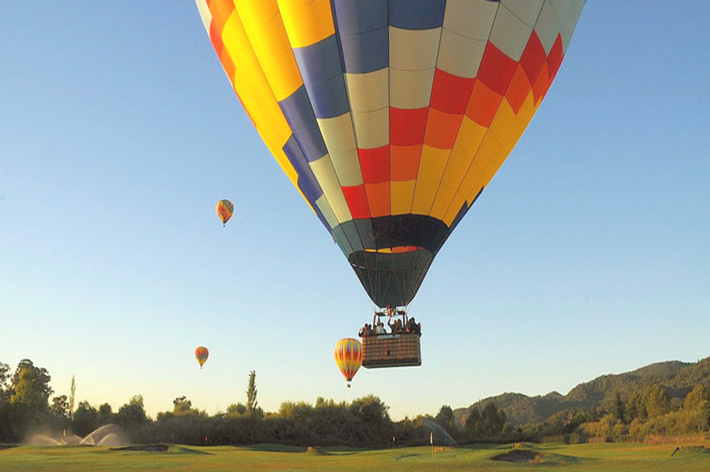 This one thing is going to make ever age group go crazy! You can have a wide view of the world we live in. the temperature is not cold up there; rather you can hardly feel cold. You can have the most exotic yet thrilling experience in your life time. This activity is quite prominent across the globe though, it has made a mark here in India too. Rather taking a flight to Pushkar, Ranthambore or Jaipur, how about a hot air Balloon ride? Carry camera and capture the most interesting ballooning photos and cherish it forever.  
Wildlife Sanctuaries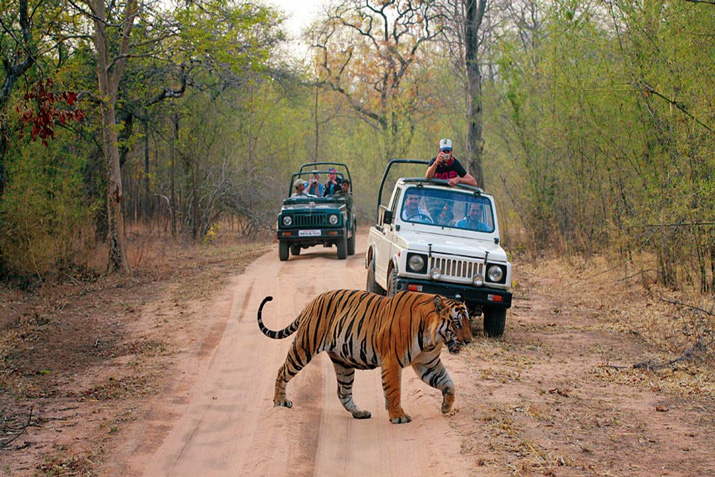 Rajasthan is scattered with Wildlife sanctuaries. From Tal Chapper to Mt. Abu, Kumbhalgarh to Ranthambore, there are as many as ten Wildlife and Bird Sanctuaries. Actually the landscape of Rajasthan is infertile and arid in most areas which provide a huge wilderness, dense scrub thorn woods and thick grassy woodlands help in building the home for a vast variety of endangered species of both birds and animals. Ranthambore National Park lies in the shade of the Aravali and the Vindhya mountain ranges which is home to the elusive big cats. Whereas Bharatpur Bird Sanctuary is a hub to endangered birds and even for the migratory ones. Panther, flying squirrel, wolf are home to Kumbhalgarh Wildlife Sanctuary. If you want to see Black Bucks, visit Tal Chapper and treat your eyes with the most exquisite view.
[ Know more about Ranthambore National Park ]
Spooky Bhangarh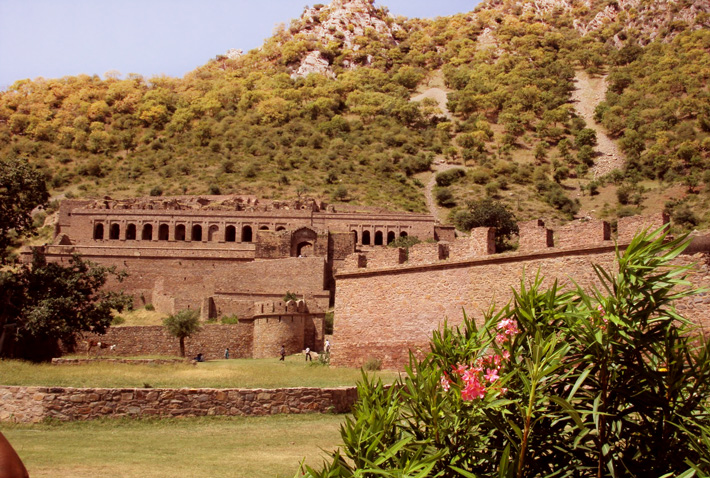 Drive all the way to Alwar where Bhangarh waits for you to give some Goosebumps as it is believed to be haunted. The myth is that anyone who visits Bhangarh Palace after dawn is said to never return. Despite being an old city, Archeological Survey of India does not hold an office. Get thrilled by hearing the stories from the locals.             
Shopping in Rajasthan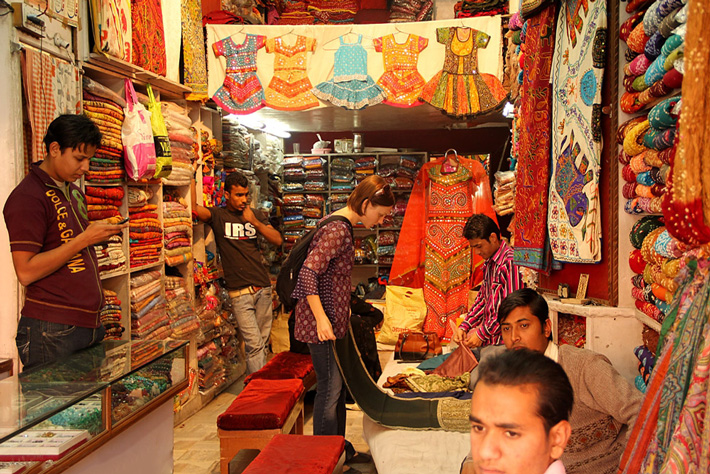 Whether it is Johri Bazaar of Jaipur or Sadar Bazaar of Jodhpur, you are going to get the authentic gems and jewelleries, exquisite handmade Sarees, lahengas will make your feet stop by and indulge you in a shopping spree. Witness the art of handmade bangles that one can custom make with their own choice of stones, colors and designs. All at your Service!!
How to Book and Get Best Hotels?
Rajasthan being among the famous tourist attraction, it is advised to book your tickets in advance so that there are no hustle by the time you reach. You may book your tickets online; which is the most prominent and comfortable means of communication without any tension. There are various Hotels and Resorts that provides all the necessary information's you are looking for. These accommodations are ready to provide you the best deals so that you can have a very soothing yet relaxing vacation of your lifetime. Once you are done with the booking and choosing the kind of hotel you are going to stay, you may calmly pack your bags not missing the necessary belongings to bring along with you.
Best Time to Visit:
When you are planning a trip to a place like Rajasthan, it is an utmost necessary to have information's regarding the climatic conditions and the best time to visit. The climatic conditions vary in this part of India due to many reasons. Basically there are four types of seasons. Summers from April to June, Monsoons from July to September, spring starts from December and the winters from January to March. In summers temperature rises to 45 degree and nights are cooler comparatively. Best time would be in the Monsoon because though rainfall is quite less comparatively to the other states, it will give you an abundant of experience which will be in your memory forever. Peacocks dances in the sound before the arrival of shower is a magnificent view and the aura will make you dance as well.
How to reach Rajasthan
Travel to Rajasthan is available by all the three means of transportation.
Airways:  Jaipur has an International Airport. Also Udaipur and Jodhpur are the two important airports respectively.
Railways:

Rajasthan has 4600 km of railway track that connects all the regions of India and the Head quarter of North- West Railways is based in Jaipur.

Road:

Rajasthan occupies 5655 km of national highway and 8627 km of state highway. NH8 passes through Jaipur and Udaipur which is a four lane road.
So… hurry up! Pack your things and get ready to experience the rich culture, customs, traditions, art and crafts of the North-Western State of India that credits its warm hospitality, royal culinary and have a bumpy ride in the hump back of camel in one of the big desert across the globe.
[Plan your Rajasthan holidays with IndianHoliday.co.uk]