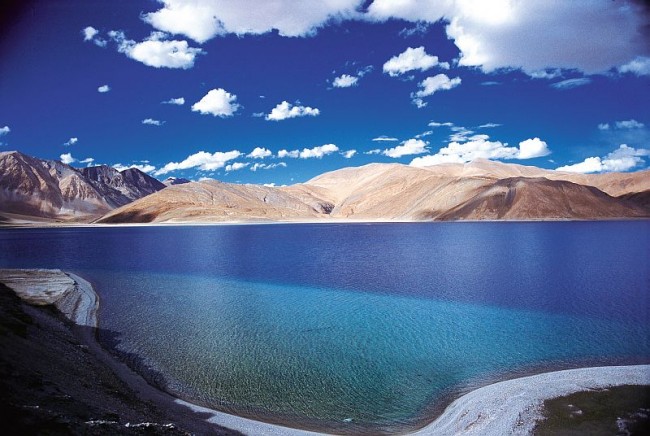 India is a land of wonders. If there is any place on Earth replete with all the colors that nature has to offer, it is India. If there is any place on Earth brimming with a bewildering variety of peoples and cultures, it is India. If there is any place on Earth teeming with some of the most beautiful flora and fauna in the world, it is India. From dense tropical forests, to vast expanse of seas and from immense stretches of deserts to towering peaks of mountains, there is nothing that India doesn't boasts of. The extensive sweep of land, from the heavenly Kashmir in the North to the southernmost tip of Cape Comorin in the peninsula and from the barren white desert of Rann of Kutch in Gujarat to the virgin lush greenery of the North East , India manifest itself into millions of hues, tastes, languages, races, traditions, seasons, religions and festivals. From Ibn Batuta to Al Beruni, from Fa Hsien to Richard Branson, there has hardly been anyone who has not been mesmerized by the charm and allure of India. The captivating beauty and arresting manners and customs of people makes India one of the most favored destination for the travelers who visit this place for the unique reasons of their own. For some people, India is an experience, lost in sagely wisdom and philosophy of its ancient civilization, while for some India offers truly a getaway from the chaos and clutter of the world for some real fun and adventure. Thus, no matter where one lives and to which culture one belongs, everyone wants to have a bit of this age-old and vibrant community and society.
Although it is always valuable to have a clear objective in mind before embarking on a journey to this vast county, but for a general purpose tourist ,we have listed 10 of some of the most spectacular and remarkable places in India to enjoy your time.
Pangong Lake, Ladakh: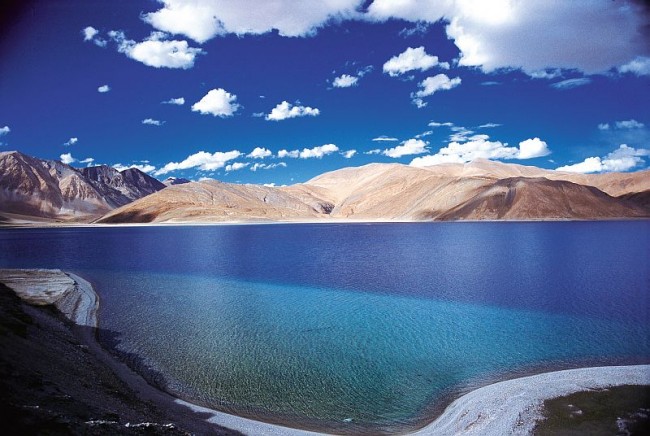 Ladakh is situated in the Indian state of Jammu and Kashmir, which has been described by many as the paradise on Earth. Although Ladakh has some of the most beautiful and heavenly lakes at the height of approx. 4000 meters above sea level, Pangong Lake stands out from the rest as one the cleanest in India. Locked and isolated in between the different Himalayan ranges, it also offers as a hidden and secluded destination of couples to enjoy some private and romantic moments together. Another aspect of this lake which makes it adventurous and thrilling is the fact that not all of this lake lies in the Indian Territory as some parts of it stretches into China and some part of it into Tibet as well.
[Browse through our Ladakh tour packages]
Mangrove Forests of Sunder bans: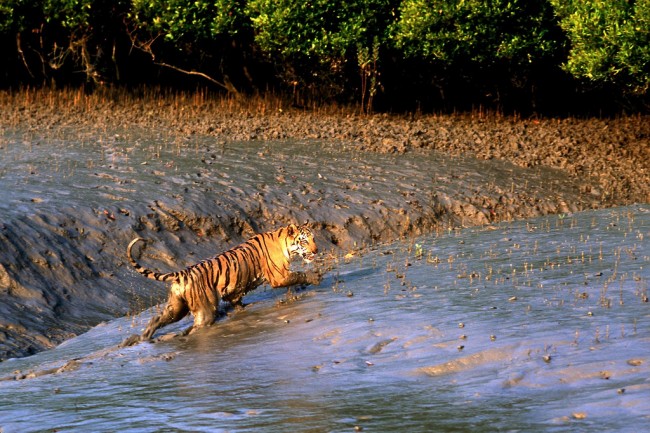 The SunderBans is a UNESCO world heritage site, home to the largest reserve of tidal halophytic mangrove forests in the world. Remote, mysterious and raw, the Sunderbans stand on an extremely fertile delta formed due to massive confluence of the Ganges and Bhramaputra rivers. However, almost 60 percent of the forest lies in Bangladesh making it a shared resource amongst the two countries. The Sunderbans is also home to the famous Bengal Tiger, which is a unique specie of this predator found only in the subcontinent and parts of China, thus making it a thrilling and adventurous expedition to take.
The Ghats of Varanasi: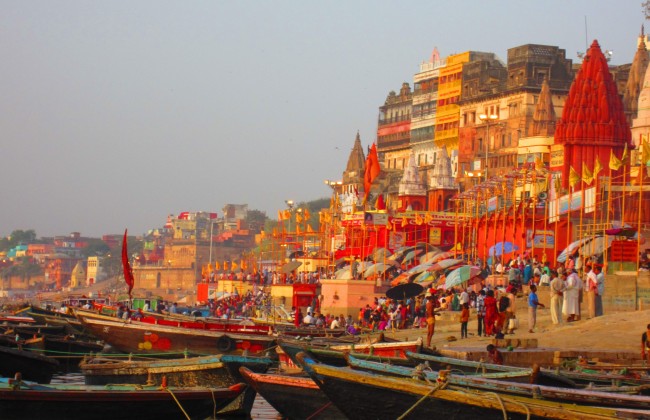 Traditionally known as Benaras, the city of Varanasi is a breathtaking example of a thousands of years of continuous civilization living and flourishing up to the present times. The visitors can witness traditions, customs and rituals of Bronze Age struggling to survive along with the trends, fads and conventions of the 21st century. Varanasi is also considered to be one of the holiest cities of Hindu Culture. One cannot miss pilgrims making devotional dips in the Ganges or locals burning their dead along the banks of the river. With an amazing cacophony of temple bells, invocations to gods along with the usual hustle bustle of the city squares, markets and alleys, Varanasi will truly furnish a truly magical experience to a traveler.
Deserts of Rajasthan and Gujarat:
| | |
| --- | --- |
| Thar Desert, Rajasthan | Rann of Kutch, Gujarat |
The Great Indian Desert or the Thar Desert is the 17th largest desert of the world and forms a natural boundary between India and Pakistan. The vast expanse of nothingness coupled with the arid and extreme climate, makes Thar an adventurous journey. Guests can enjoy open sky camps along with camel safaris and if one stops over in the city of Bikaner, spicy and delicious Rajasthani cuisine. Most of The Rann of Kutch in Gujarat is the largest salt desert in the world, which however remains submerged under the water during the monsoon season. The white salt tract of land begins to appear after the month of October when it begins to dry up. Thereafter the tourist season continues up to March.
[Browse through our Rajasthan Tours packages]
The amazing islands of Andaman and Nicobar and Lakshawadeep:
| | |
| --- | --- |
| Andaman and Nicobar | Lakshadweep |
The Andaman and Nicobar islands along with the Lakshwadeep are a group of 50 something islands which are under the Union of India. These islands are world famous for its white sand beaches and clear blue sea water. It offers tourists a variety of thrilling adventurous sports such as scuba diving, snorkeling etc. Along with its precious marine and coral life and Stone Age to Colonial heritage, these islands are definitely "not to be missed" vacationer attraction. Although situated at some distance away from the mainland, these sites are well connected by the ferries from the cities of Kolkata, Vizag and Chennai.
[Browse through our Andaman tour packages]
The Backwaters of Kerala: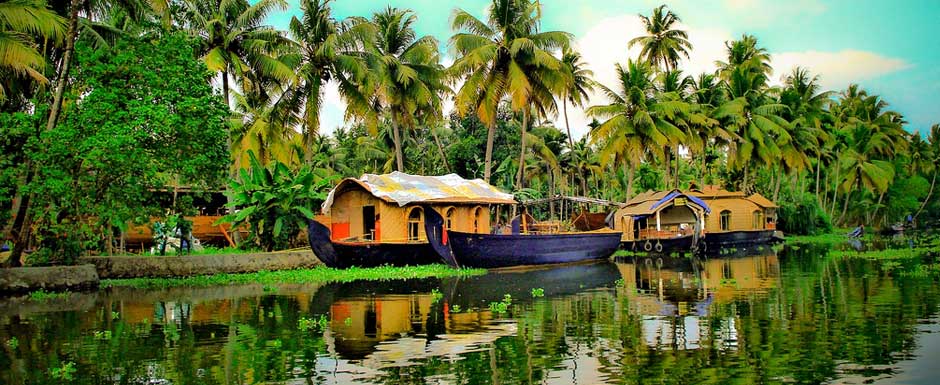 A natural network of a number of inlets, waterways, estuaries and canals, collectively known as the Backwaters, this famous visitor attraction is acclaimed to enthrall and mesmerize couples on a romantic vacation. The leisurely ride along the pristine and rustic natural beauty, one will find the magic of rural life coexisting in harmony with the nature along with birds and wildlife. Tourists typically get to live on a houseboat, which offers an amazing degree of comfort and privacy for guests to enjoy scenic and picturesque charm.
[Browse through our Kerala Backwater tour packages]
Snow Adorned Peaks of Manali: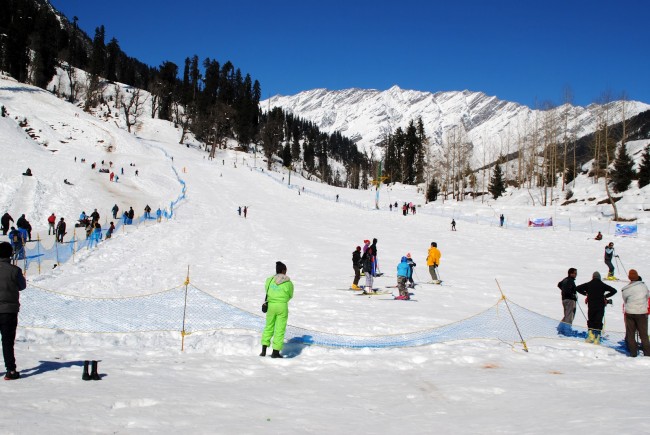 Manali is one of the most popular summer destinations for the tourists as it not only a offers a welcoming getaway for the weary visitor but also presents a host of adrenaline pumping activities like rafting, paragliding, zorbing and trekking. Manali is also one the foremost choice for newlyweds with its serene and quiet ambience. With the gush of Beas and an all-weather accessible climate, Manali is truly an exotic and attractive site both for the roaming and wandering backpacker to family wanting to spend some quality time in the cool, crisp air of Himachal.
Valley of flowers, Uttarakhand: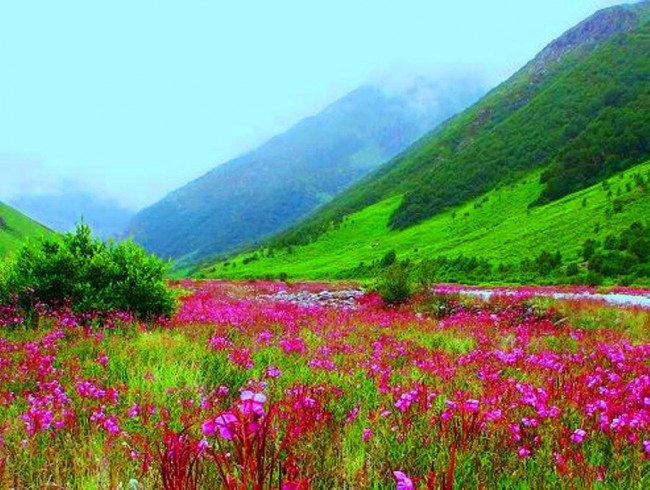 Don't settle for only a bouquet for your beloved but offer her a whole valley of flowers with this fabulous and exotic valley in India's East. Beautifully studded with a fascinating diversity of blooms, this valley has quickly became a much sought after inspiration for writers, poets and nature lovers alike. This surreal and awesomely destination has now been declared as a national park and one can find an alluring mix of flora as well as fauna, including different species of bears, snow leopard and the famous Red Fox.
Coorg: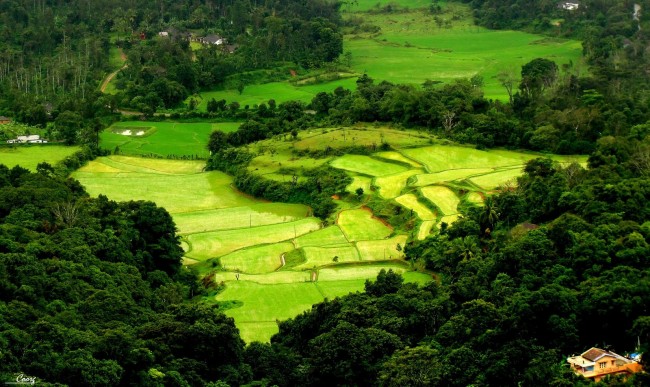 This little, sleepy town is situated in the midst of valleys and hills of the formidable western ghats. Christened with different names in different times such as "Kashmir of the South" and "The Scotland of India", Coorg has kept its place as an upscale tourist spot which offers luxurious hotels to its guests. Placed at a height of 3500 meters above sea level, Coorg has an ambient environment and lush green surroundings which makes it a good site for trekking, relaxing and watching the sunrise and sunset. The best time to visit Coorg is the months of April-May during which flowers blossom and one is able to see and drive past many coffee and spice plantations
Goa's Magical beaches: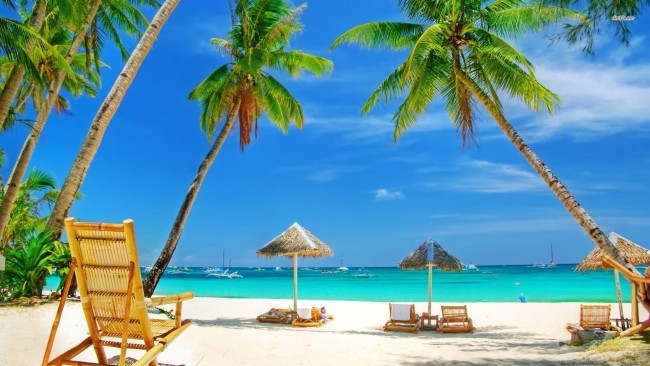 Last but not the least, Goa is found on every tourists "to-do" list when visiting India. Even though not the best in the world, Goa has some of amazing and attractive beaches that offers tourists freedom and opportunity to relish their own time in their own way. Goa was a Portuguese colony till 1961, well into India's independence, thus one can see marks and impressions of Portuguese culture everywhere, from Gothic churches to Portuguese Cuisine. Though having a tropical climate, Goa enjoys moderation by the cool breeze from the Arabian Sea. The hospitality and warmth of the locals make guests want to come here again. With a stunning night life and free and lively atmosphere, Goa is an unfading memory for anyone visiting here.
[Browse through our Goa tour packages]