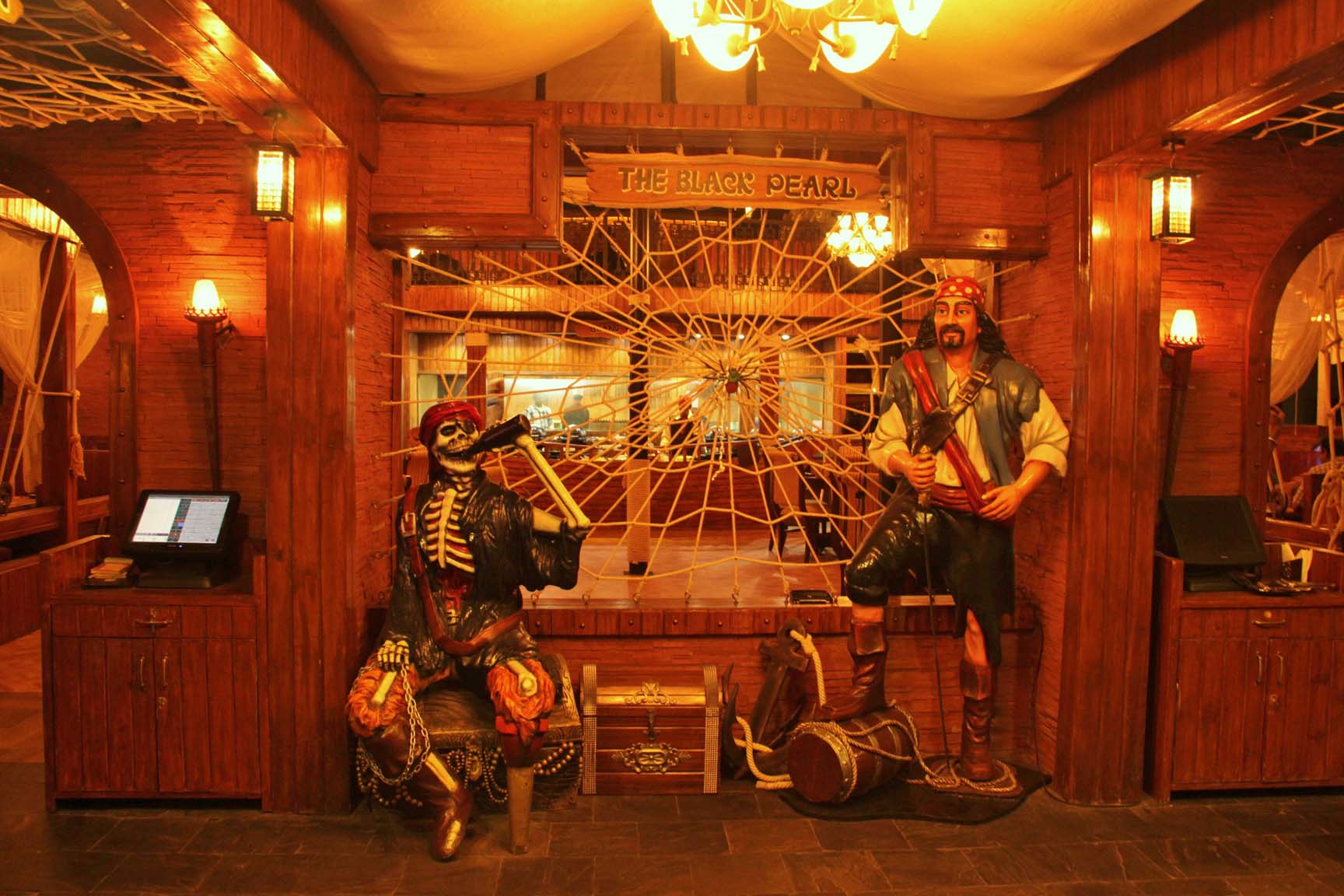 While we were just happy dining at mainstream cafes and restaurants, some people were constantly taking the food business to an all-new level.  Restaurateurs understand that we people are always in search of something new and unique. For the same reason, they keep on looking for new themes and ideas that match the interests of audiences. Theme restaurants are taking over across the country. The basic idea behind these restaurants is to offer something exceptional to every foodie. Every theme stands out from the other and covers so many different aspects that you may find unimaginable. Every theme restaurant deserves a must visit as it gives something new to explore and relish. Here is a list of 14 cool themed restaurants to eat and drink in India:
1- Bhaijaanz, Mumbai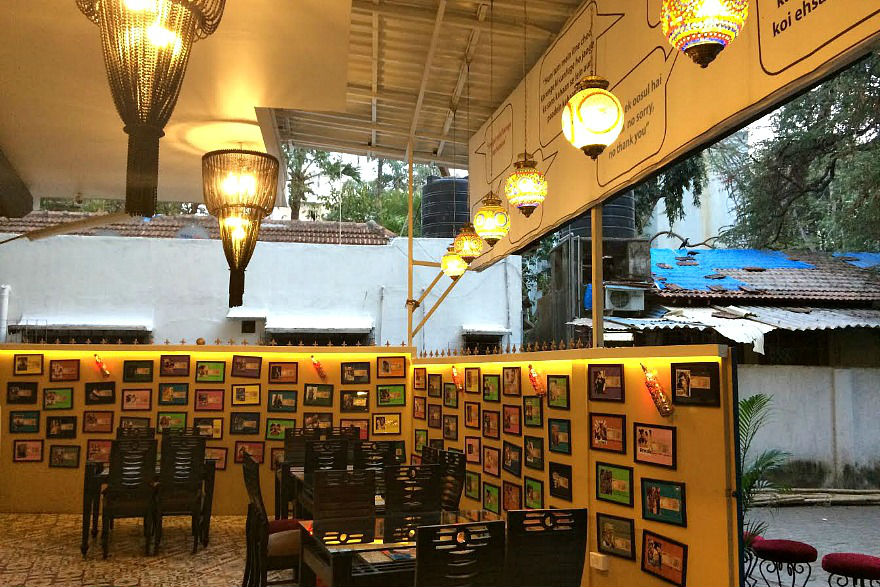 Cost for two people: INR 850 (approx.)
Must try: Chicken Malai Kebab, Biryani
While the craze for Salman Khan and his movies always hovers high on the graph, there is something new to add to the craze, a Salman-inspired restaurant opened recently in Carter Road, Bandra.  The brainchild of 5 Salman Khan Fans, Bhaijaanz is a must pick for all the fans of Salman Khan.
Salman's hit numbers welcome you at first and make you tap your feet at every single beat. Hit videos of Salman, taking over all the screens ensure that you are entertained throughout. The interiors are the star highlight of this filmy restaurant and they speak much about this man's personality, his stardom, his crazy fan following and more. The entire theme of the restaurant makes you recall his entire film journey 'Biwi Ho Toh Aisi' to his latest hit 'Bajrangi Bhaijaan'.
'Ek baar jo maine commitment kar di uske baad to mai apne aap ki bhi nahi sunta', 'Main Teri Pungi Bajaunga', 'Swagat Nahi Karoge Hamara' are some of his known dialogues that feature on the walls of the restaurant. These posters add to the colorful and dramatic ambiance of the restaurant and awaken the hardcore Salman fan in you.
The menu is uniquely set to make you think of Bhaijaan with every single bite. The menu covers dishes from Continental, Indian and Indo-Chinese cuisines. Chulbul Chawal, Mera Hi Jalwa, Anda Apna Apna, Mutton Deewana Mastana, Wrap Ready are popular dishes that directly make a way to your table after taking inspiration from some of Salman Khan's most popular movies.
2- Gufha, Bengaluru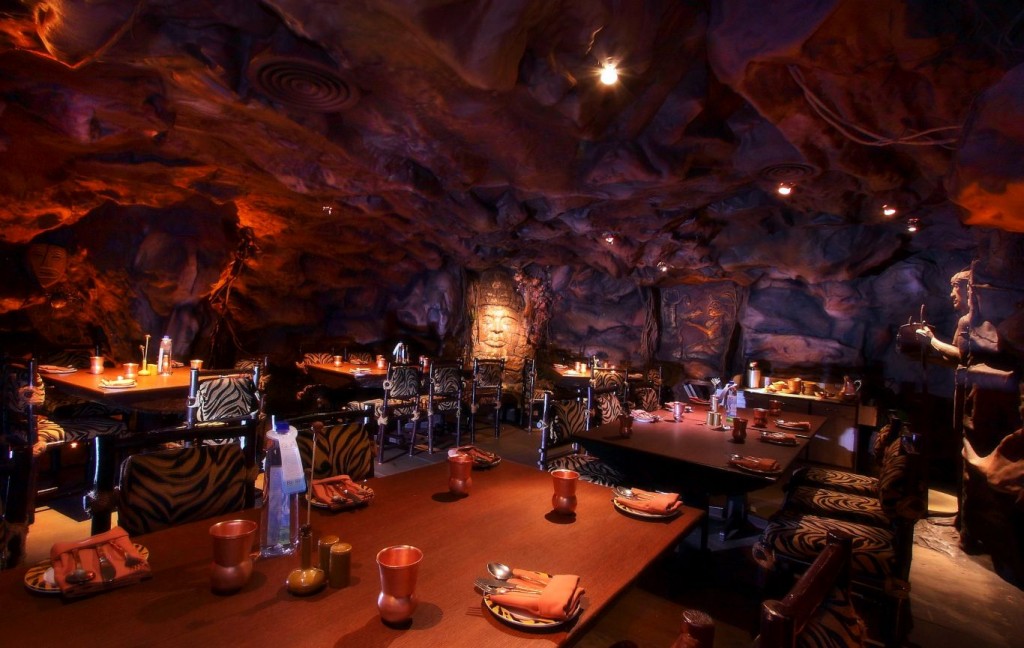 Cost for two people: INR 1100 (approx.)
Must try: Afghani Kebab, Murgh Biryani
One of the most popular and unusual restaurants of Bengaluru, Gufha is set in the heart of the city. Taking inspiration from a natural cave, Gufha takes you to a completely different world. This caved-themed restaurant serves authentic North Indian food. To add to the ambiance, the staff of the restaurant dresses up in a unique style that takes away all the attention. The hospitality deserves a special mention as it plays a key role in the success of the restaurant. The food is great and the experience is enhanced with good music and quick service.
3-  70mm, Hyderabad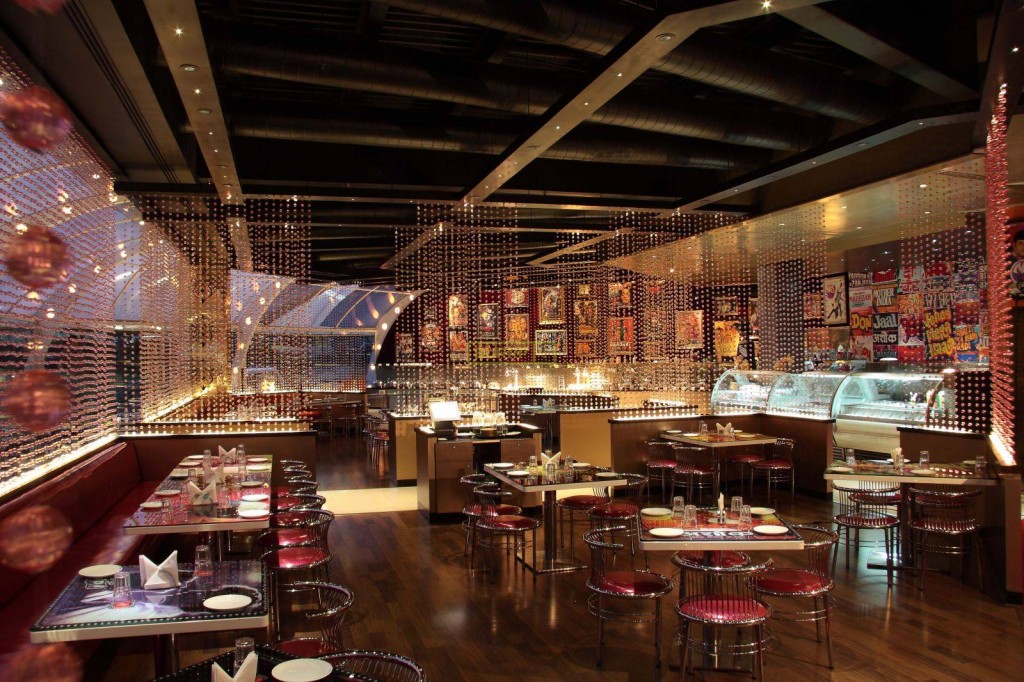 Cost for two people: INR 1,000 (approx.)
Must try: Momos, desserts
Undoubtedly, Bollywood is one of the biggest obsessions of the people of India. For both foodies and movie buffs, 70mm is a true paradise. The restaurant speaks loud of the true pride of the nation, Bollywood through its uniquely themed ambiance. As soon as you enter the restaurant, you get a strong flashback of cult movies given to the nation by Bollywood. Colorful posters from super-hit movies like Mother India, Dilwale Dulhaniya Le Jaenge and Kabhi Khushi Kabhi Gham are set on the walls of the restaurant. Bollywood hits entertain you while you enjoy your food. Treat your taste buds with dishes from Indian and continental cuisines. With delicious food, you can also enjoy super hit movies from Bollywood that are screened in the restaurant every day. Feel the romance, action and drama of Bollywood with a meal at this colorful place.
4-   Taste of Darkness, Hyderabad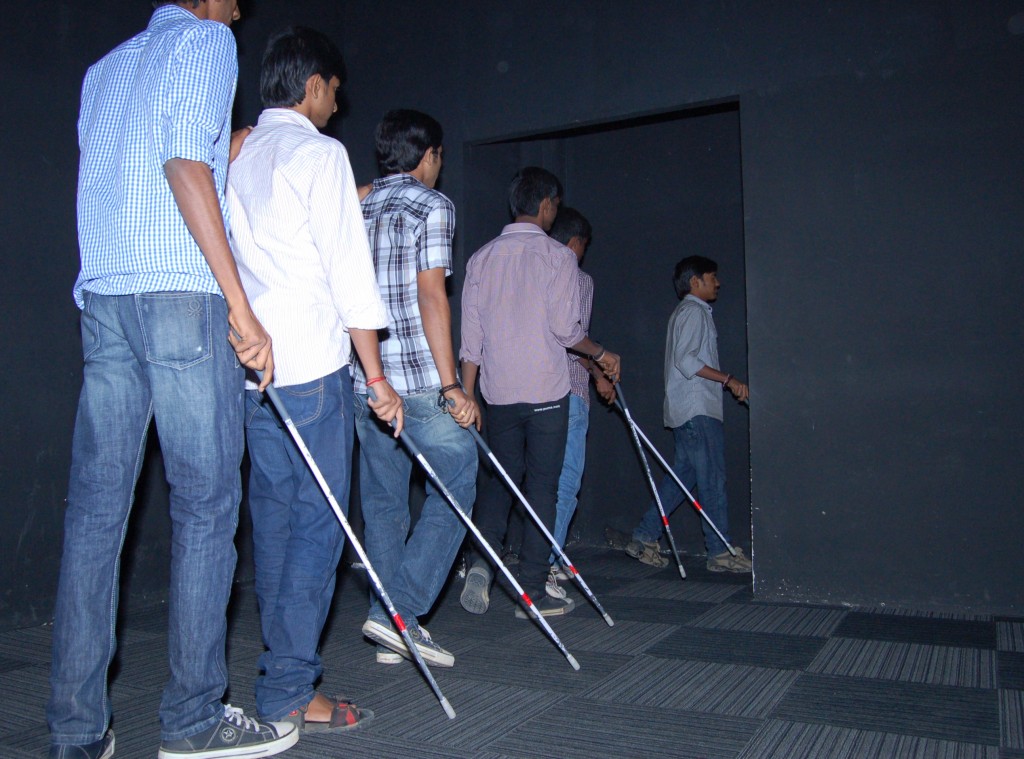 Cost for two people: INR 1600
Get ready to experience a unique dining concept where you are served delicious food, but in complete darkness. With this, people get to learn a lot about the lives of the visually impaired. The experience is further enhanced with a shaking bridge.
While colorful ambiance and candle light dinners have turned into a cliché these days, 'Taste of Darkness' is something hitting the graph rapidly. As soon you enter the restaurant, your cell phones and all other accessories in your pocket that emit light will be taken away from you. Yes, all these things will be confiscated. A guide will take you to this unique restaurant where you will savor food without seeing it. You will be provided walking sticks that will help in you in reaching inside. At Taste of Darkness, you can assure yourself some great food. So, it's just your meal and complete darkness!
5- Ciclo Café, Chennai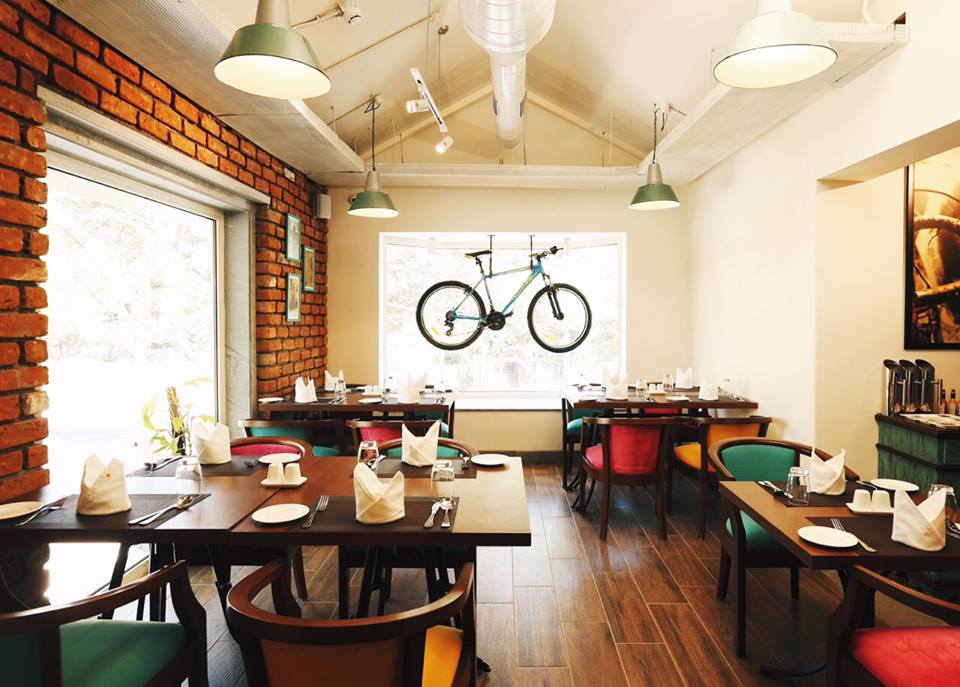 Cost for two people: INR 1,100 for two people (approx.)
Must try: Walnut brownie, Pizza Rustica
So the theme is inspired from our all-time favorite, cycle. 'Ciclo Café takes you back to your childhood memories with its exceptional theme. Once our most prized possessions, cycles are set around this entire restaurant. The restaurant deserves a must-visit from all cycling enthusiasts. The interiors of the restaurant take inspiration from cycles and its parts. Be it the tables or the chandeliers, every piece and place of the restaurant is prepared using bicycle parts. Continental and Italian form the main cuisine of the restaurant. The star highlight of Ciclo Café is its huge collection of vintage cycles. Cycles from different brands and years are displayed in the restaurant and they make you ditch all your bikes and cars and go green all the way!
6-  Chowki Dhaani, Jaipur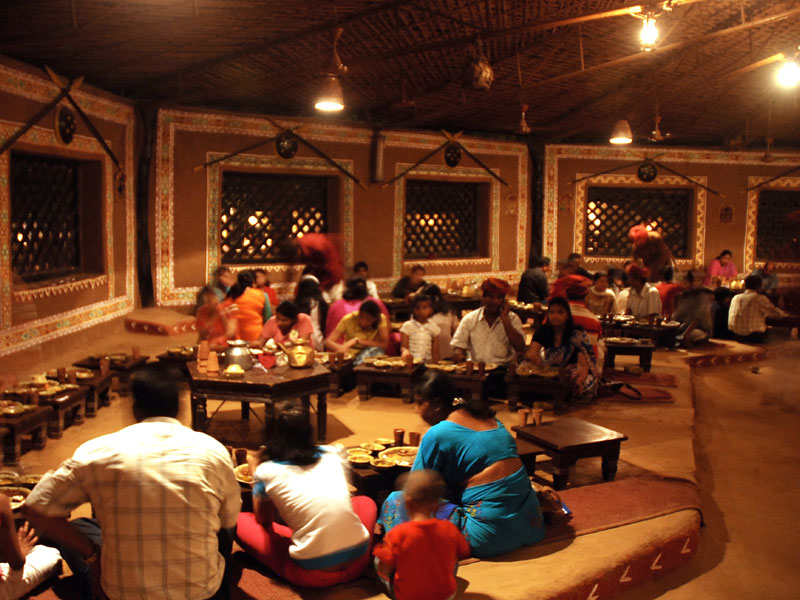 Cost for two people: INR 1600 (approx.)
Must try: Rajasthani Thali
Chowki Dhaani is a village fair and restaurant that speaks loud of the culture and warm hospitality of Rajasthan. The restaurant has been awarded by the Ministry of Tourism for the most innovative project. Chowki Dhaani features a colorful and unique ambiance of a typical Rajasthani village. The food menu covers traditional Rajasthani dishes. To make you enjoy the true heritage hospitality of Rajasthan, you are welcomed with Tikka and Aarti. The decoration of the restaurant is very ethnic that makes you understand the strong roots of Rajasthan's cultural heritage. Further, for the entertainment of the guests, there are different games, puppet shows, music shows and folk dances organized at the place. To make your visit enjoyable and memorable, joyrides on elephants and camels are provided to all the guests.
7-  Silver metro, Bangalore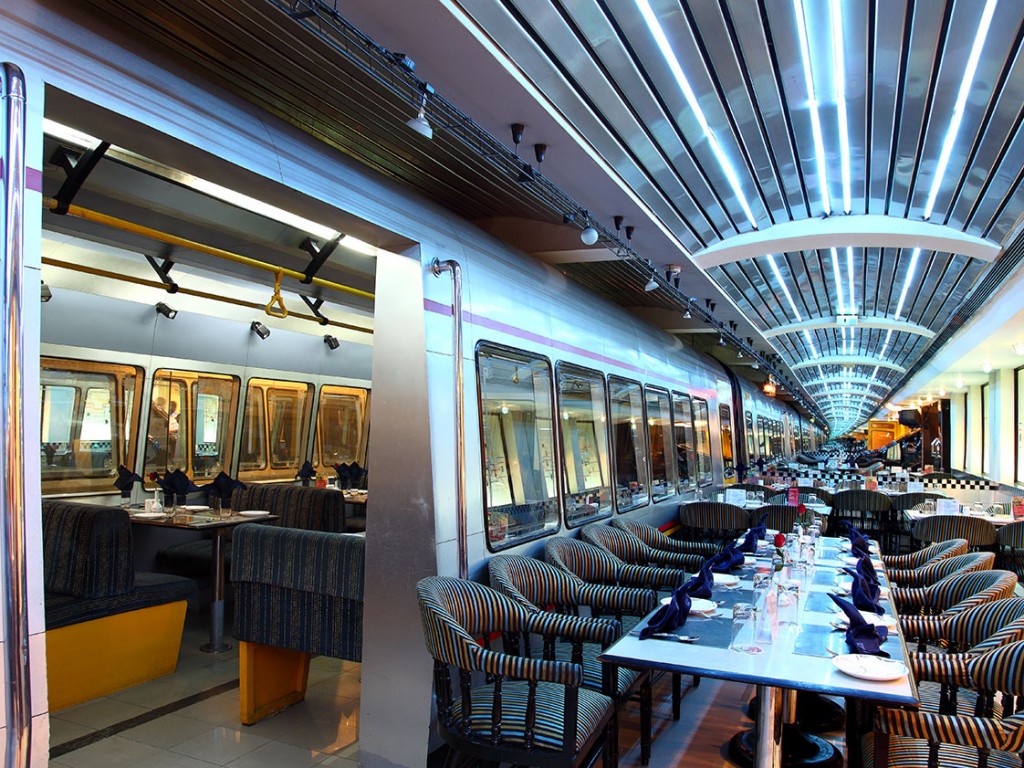 Cost for two people: INR 700 (approx.)
Must try: Punjabi Buffet, street food
Dining in a metro train, unique, isn't it? Well-known to serve the tastiest buffets in town, Silver Metro is an exceptional restaurant that offers lip-smacking food in the setting of a metro train. The décor of the restaurant is truly captivating and it sways away your heart at once. The buffet covers a number of items from North Indian and Mughlai cuisines. The Silver Metro is an economical option for a delicious lunch.
8- Nature's Toilet Café, Ahmedabad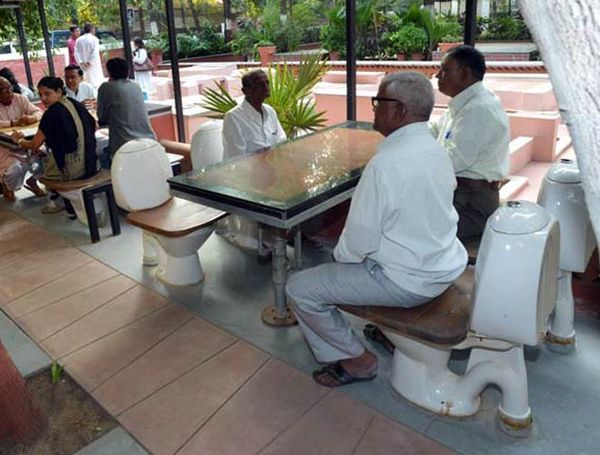 Nature's Toilet Café is the first toilet themed restaurant of India. While every restaurant of the country has restrooms, this unique café brings it to us in the most unimaginable form. Just imagine savoring your food while sitting on a toilet seat. Yes, it is that. The restaurant boasts of a garden that is lined up with lavatories. Of the entire collection of lavatories and urinals, there are around 20 that date back to the 1950s. So you sit on a lavatory and munch the food offered at the restaurant. While some people call this a ridiculous concept, others find it exceptional and pay a visit very often.
9-  Chor Bizarre, Delhi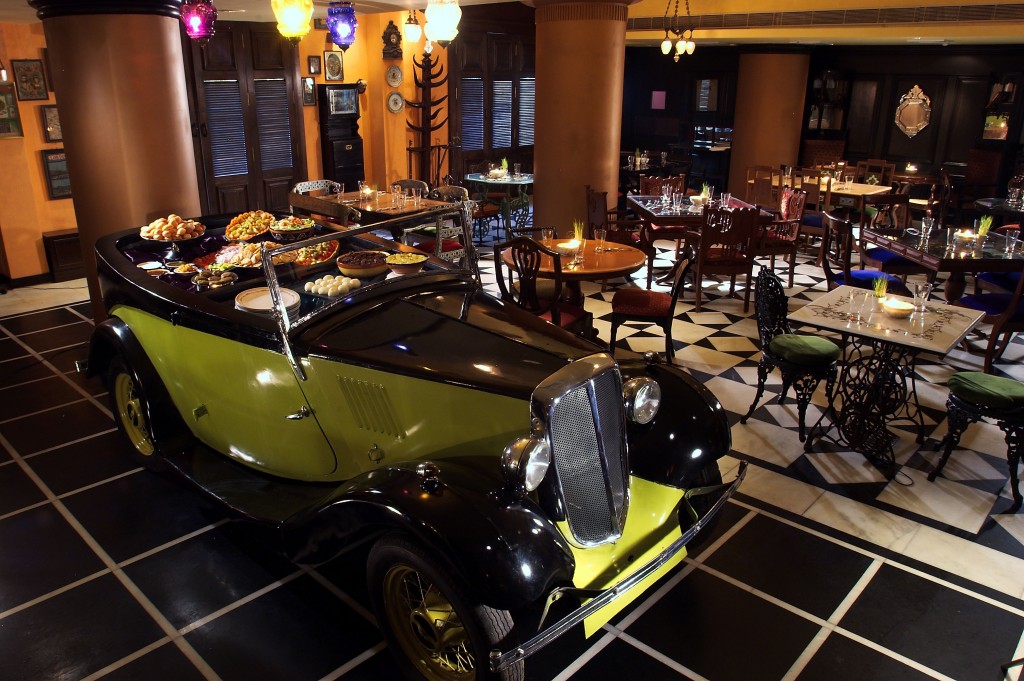 Cost for two people: INR 1,500 (approx.)
Must try: Tabak Maaz, Gazab Ka Tikka, Goshtaba
'Chor Bazaar' or the 'Market of Thieves' is the true love of every Delhiite. Featuring the unique concept of the 'Market of Thieves', the restaurant is a place that is loved by all. A blend of all things different and uncommon make Chor Bizarre what it is. Chor Bizarre makes you have an insight of the bygone era of India and its capital city, Delhi. Authentic North Indian and Kashmiri food is served at the restaurant with heartwarming hospitality. The food is so tasty that you will crave for more and more. Don't miss trying the specialty 'Aloo Bukhara'. The main attraction of the restaurant is the vintage car that carries numerous collectibles from the bygone eras. This adds to the charm of the restaurant and makes the ambiance more pleasing.
10-  The Bar Stock Exchange, Mumbai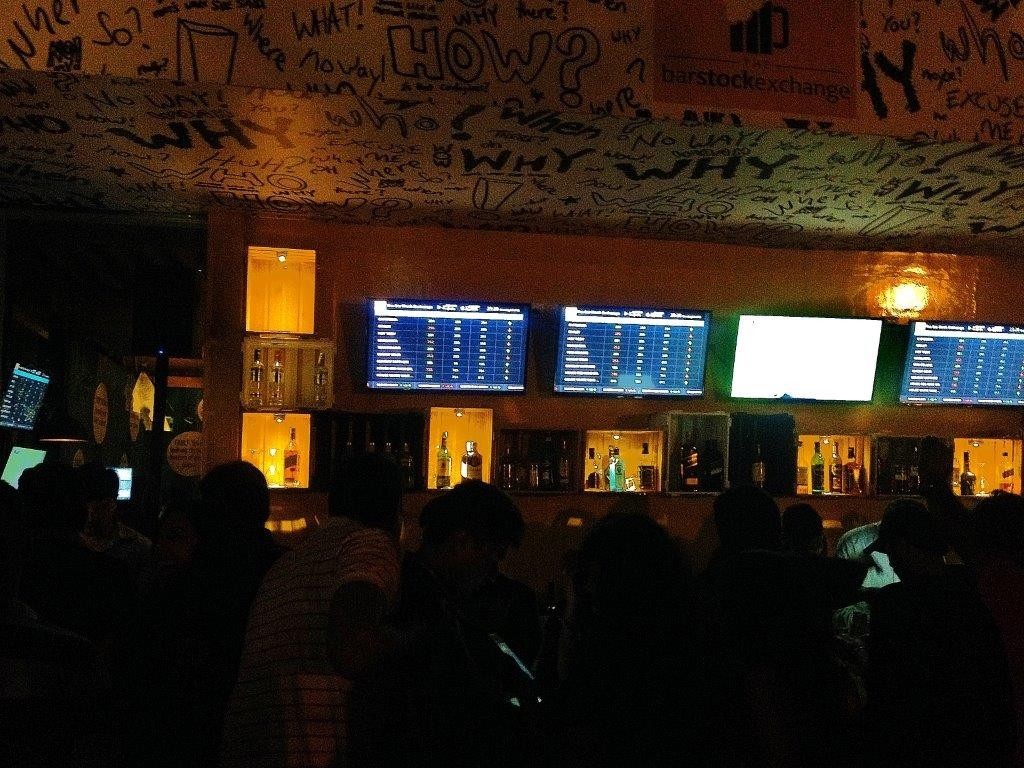 Cost for two people: INR 1500 (approx.)
Must try: Popcorn chicken, Chicken Tandoori Tikka Pizza
India's first stock market-based bar cum restaurant, The Bar Stock Exchange (TBSE) that allows you to trade in alcohol and spirits starting from prices as low as the MRP. The prices of the drinks keep changing as per real time demand and is further conceptualized on the basis of the lines of infamous stock exchanges. The entire restaurant is designed like a real stock exchange, which is why, it is well-known as the most technologically advanced bar in India. The bar features high-tech software monitoring, LCD screens, LED tickers and the stock market 'gong.' The entire concept is so catchy and entertaining that you would like to come back again and again. While the stock-market concept is something that will surprise you for the first, the food is no less. The bar cum restaurant serves you with lip-smacking dishes from Continental, Chinese, North Indian, Italian and Mexican delicacies. And you get all this without a dent on your pocket, what could be better? 
11-  The Black Pearl, Bangalore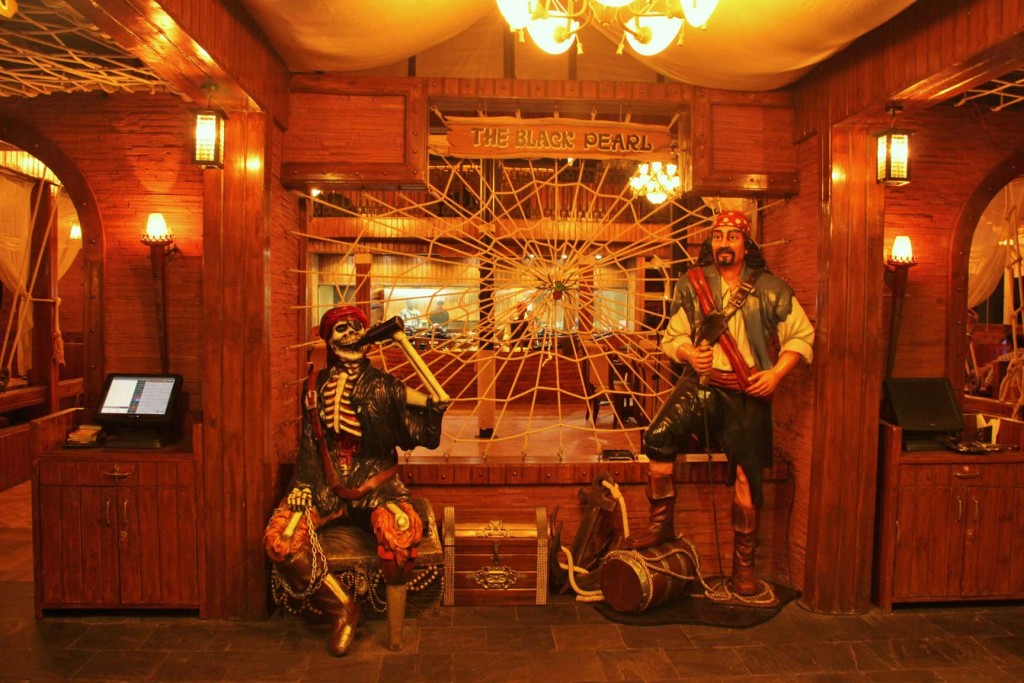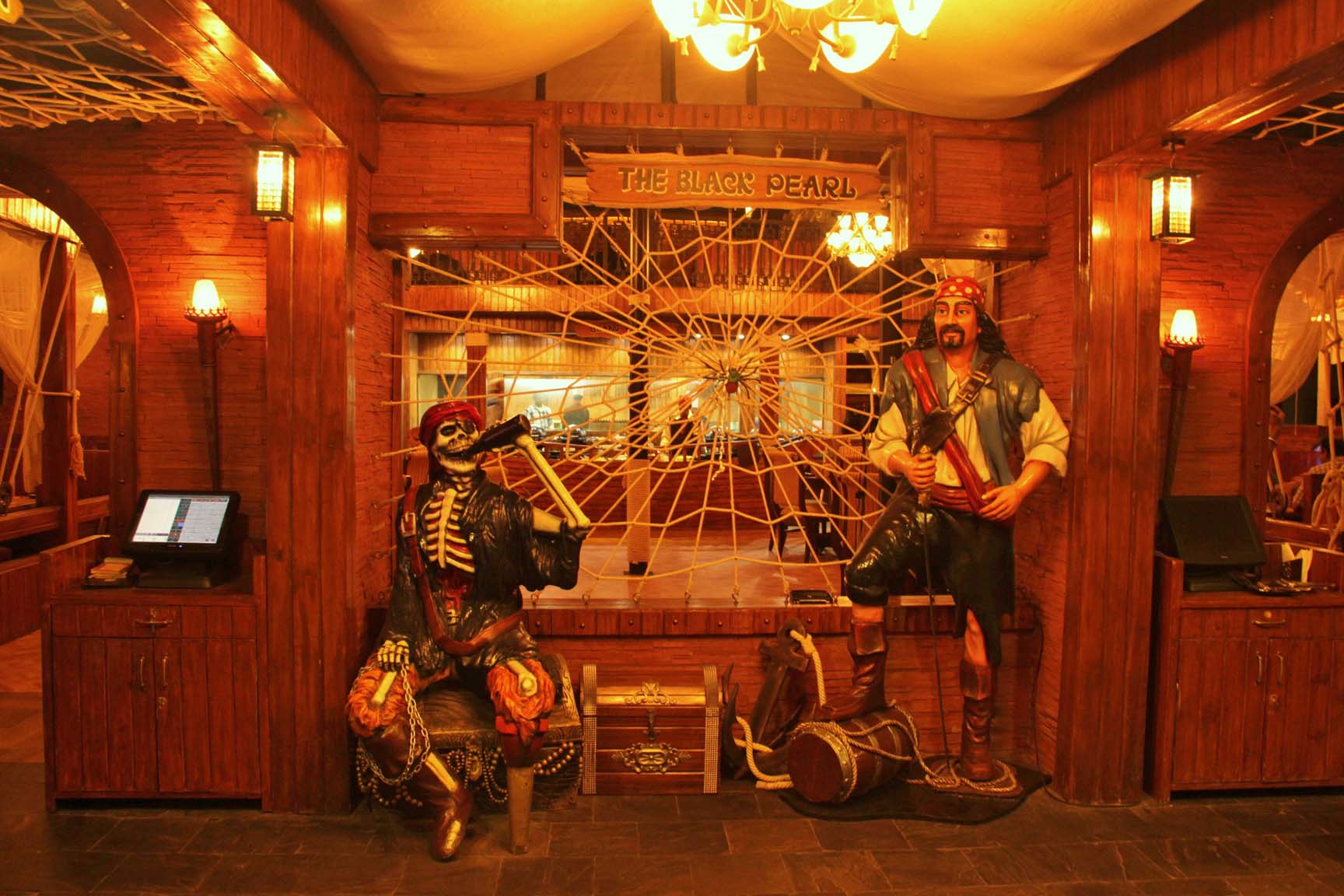 Cost for two people: INR 1400 (approx.)
Must try: crispy smashed potato, Punjabi Kheer, and Malabar Chicken Curry
Bengaluru's first pirate-themed restaurant, Black Pearl is a restaurant that you can't afford to miss. For all those who are fascinated by Pirates of the Caribbean and the lifestyle of the Pirates and Captain Jack Sparrow, they must visit Black Pearl at least once. The Black Pearl is completely inspired by a pirate ship, right from its wooden floors that look like the deck of a ship, the skills, the chairs covered with ropes, the mannequins of pirates, every single element of the restaurant gives you a sense that you are cruising in a pirate ship. Styled like pirates, waiters of the restaurant serve you delicious items from North Indian, Mediterranean, and European cuisines. The interiors are so captivating that they make you experience the perfect meal in a pirate-inspired ambiance. Singers are available to entertain while you are enjoying your dinner.
12-  Kaidi Kitchen, Kolkata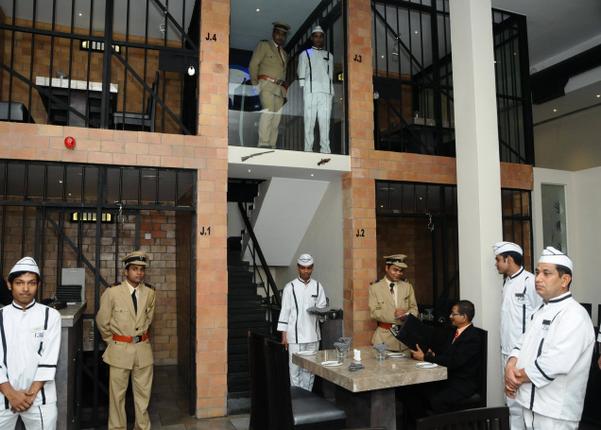 Cost for two people: INR 1300 (approx.)
Must try: Dal Makhni and Chilli Baby Corn
Kaidi Kitchen, literally meaning Prisoner's kitchen, is a quirky restaurant that serves you delectable food in a prison cell.  While some of you may tremble reading this, we must tell you that the restaurant does not take you behind the bars. It is a restaurant that takes inspiration from a prison where each prison cell is given to a group of guests. However, these prison cells are not that similar to the real ones, they feature a lavish setting. Other than prison cell seating, the restaurant also has private seating outside the cells. To add to the experience at Kaidi Kitchen, waiters and managers are dressed like prisoners and police officers. The concept of this jail-like restaurant is unique and deserves a must-try from all. The restaurant serves an all vegetarian meal from North Indian, Italian, Mexican, Chinese, Thai and Mongolian cuisines. Don't forget to try the Kaidi (prisoner) attire that is available at the restaurant.
13-  1857, Hyderabad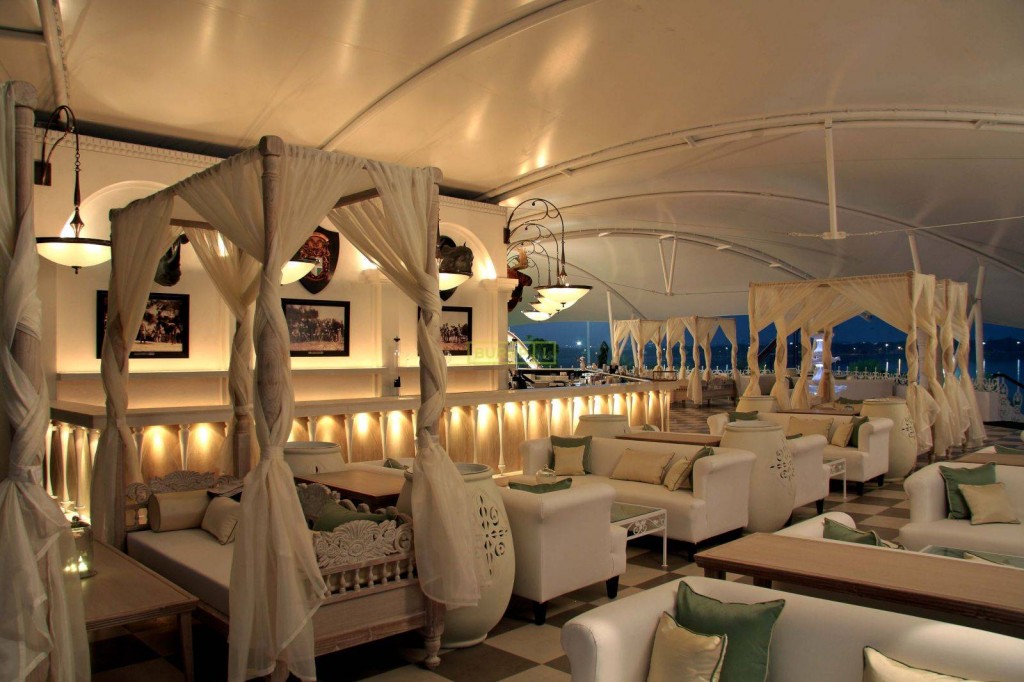 Cost for two people: INR 1200 (approx.)
Must try: Veg Cutlet in Smoked Barbecue Sauce, Eatmore sizzler Chicken
Looking for the perfect restaurant to enjoy a fine dining experience? If that's the case, 1857 is the place to be. This colonial-themed restaurant takes inspiration from the lifestyle of the British Raj. 1857 opens arms to make you feel like a king in its royal ambiance. The ambiance is warm and it makes every guest flip back the pages of the 18th and 19th-century British era. The interiors feature authentic pictures of British Raj that further add to the theme of the restaurant. Also, the blend of white and green color scheme gives a modern look. Delicious food from authentic Indian and international cuisines is served with a new flavor. While munching the delicious meal, you can enjoy a spectacular panoramic view of the historic Hussain Sagar Lake which reflects the different elements of the bygone era.
14-  Café Torque, New Delhi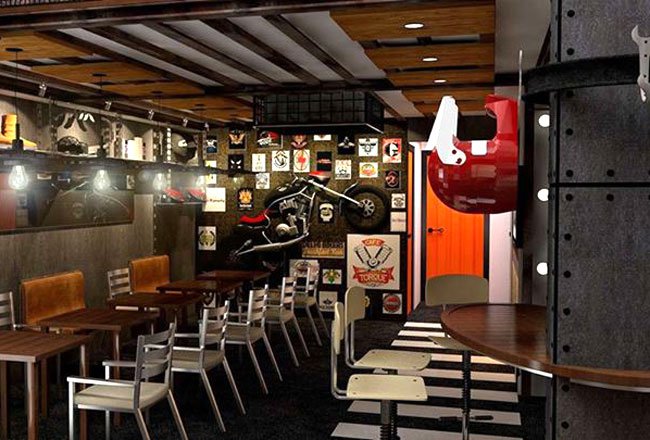 Cost for two people: INR 1500 (approx.)
Must try: Chicken wings, mezze platter
Café Torque is a restaurant for all the bikers. Each and every nook of the restaurant is dedicated to the bikers. Featuring tons of manliness, Café Torque shares with you, all your biking expeditions. Thick leather jackets, exceptional graffiti, fuel tanks, heavy mean machines, all what the biker in you can associate with is at display. The menu at Torque is perfectly set to offer the best from Mediterranean, Tex-Mex, Continental and Asian cuisines. Expert chefs bring to you the finest of all dishes from these cuisines. A meal at Torque is more like a celebration. Go celebrate!