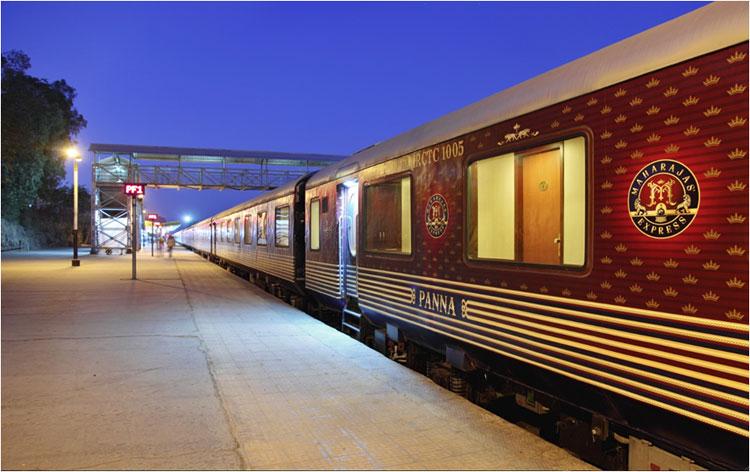 The finest luxury train in the world, Maharajas' Express begins two new royal train journeys to South India. To celebrate the new train voyages, Maharajas' Express has announced two special offers. On bookings for its itineraries to South India, Southern Sojourn and Southern Jewels, the special offers announced are:
Maharajas' Express Companion offer:
This offer is a golden chance for a free holiday for a companion. On a booking of an adult on twin sharing at full cost, the second adult sharing the same cabin will travel on complimentary basis.
Maharajas' Express Early Bird offer:
This is an once-in-a-lifetime opportunity which includes, a chance to upgrade from 'Deluxe Cabin' to 'Junior Suite' by paying only 50 per cent of the difference in tariff between the two.
The Maharajas' Express is inspired from the Indian Maharajas. Recreating the opulence of their times, the train offers similar experiences. Guests are treated to the royal pleasures of stay, dining and other delights.
The special announced offer is valid for Southern Sojourn voyage that will begin its journey on 9th September 2017. This lavish route flags from Mumbai, Chattrapati Shivaji Terminal proceeding to destinations like Goa, Hampi, Mysore, Cochin, Kumarakom, with its final stop at Trivandrum.
The special offer is valid for Southern Jewels' journey starting on 16th September 2017. The route's first stop is Trivandrum proceeding to interesting destinations like Chettinad, Thanjavur, Mahabalipuram, Mysore, Hampi, and Goa with its final stop at Mumbai.
Both of the new Maharajas' Express journeys cover the most amazing places of South India, blessed with history, culture and incredible experiences. The train itineraries include sightseeing of the palaces, forts, temples, churches of the times of the yore. There are many and fun-filled activities apart from the royal pleasures of the train. Enjoy walking tour of villages interacting with the amiable folks or lunch like royals at luxurious heritage hotels. There are many amazing cultural performances to attend or cheer at snake boat race. One can try out canoe boat rides, or enjoy getting pampered with optional spa sessions and many more memorable experiences.
About Maharajas' Express Train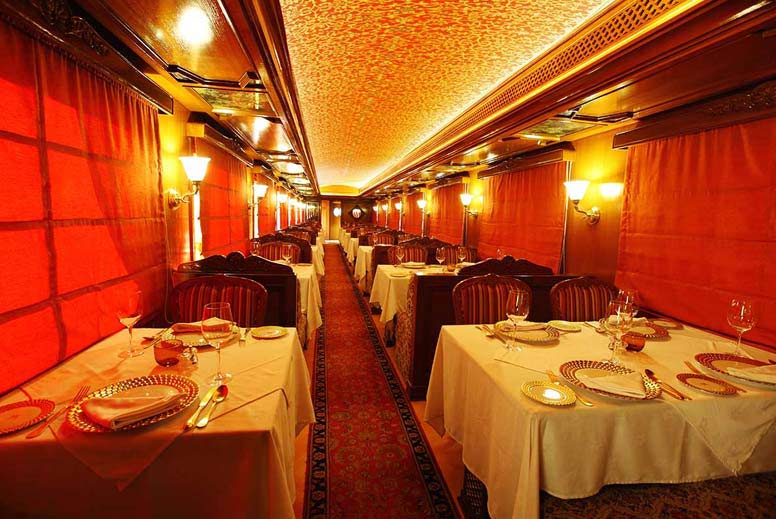 The Maharajas' Express is not just India's but the world's leading luxury train. Recreating the royal way of train travelling, guests are treated to beautiful interiors, state-of the-art amenities and lavish hospitality. Maharajas' Express has the reputation of being one of the best and not without reason. It has been awarded the title of World's Leading Luxury Train at World Travel Award for 5 consecutive years, from the years 2012 to 2016. There are also many other prestigious accolades to its name.
The 14-passenger cabin train does not lack in any luxury. Each cabin has private washrooms, individual climate control, spacious wardrobe, electronic safe, direct dial phones, live television, DVD player, CCTV cameras, electronic smoke detection systems, free WI-FI internet, etc. For delightful meals, the dining cars, Rang Mahal and Mayur Mahal offer guests a scrumptious platter of Indian cuisines as well as selections from the world. For relaxing and socialising, the lounge and bar car, Rajah Lounge and Safari bar offer a range of drinks and a comfy ambiance to unwind from the day activities. Some other facilities the train possesses include the observation car, gym, souvenir shop, on-board doctor, store car, generator, etc.
[Get more details about this offer.]