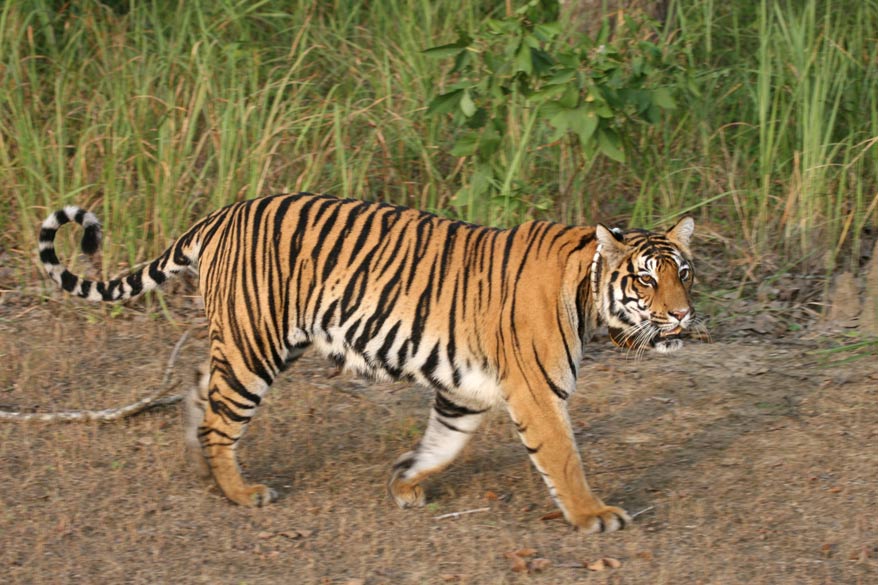 What inspired the settings of Rudyard Kipling's The Jungle Book? Kanha National Park
Where can one see Royal Indian Tigers? Kanha National Park
One of the biggest National Parks in India? Kanha National Park
You are a nature lover? Go to Kanha National Park
In the state of Madhya Pradesh, lies the famous Kanha National Park. Its popularity is because of its immense beauty and intense management. Nature lovers, Wildlife enthusiasts, photographers, historians… all gather here every year. But what can one do to make a tour To Kanha National Park, a tour to remember. Read this Travel Guide and find out for yourself…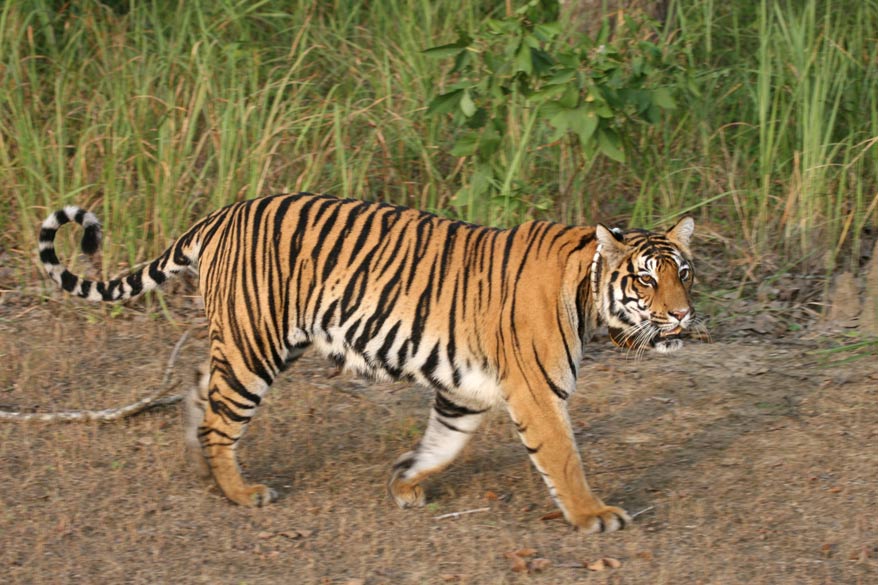 Kanha National Park… What is it known for?
Kanha National Park is one of the most popular tiger reserve housing endangered species of The Royal Bengal Tigers.
Oohhh… Tigers!? How did the tiger reserve come into existence?
In the year 1862, rules were laid out prohibiting chopping various species of trees without proper permission in the forest area. In the year 1879, the area around Kanha Forest was declared as reserve forest area. The Park grew immense popularity during 1880s when its settings were used as a backdrop of Rudyard Kipling's The Jungle Book. The Reserved Forest earned the distinction of a protected sanctuary in 1933. Between 1935 and 1955, killing of animals was allowed periodically to protect fauna. Between 1955 and 1975, numerous important measures were implemented to preserve the Forest's ecosystem, the tigers and the "jewel of Kanha", Barasingha. In 1980, the Park's popularity led to the creation of an award winning National Geographic Film, "Land of the Tigers". Project Tiger was initiated the same year at Kanha. In the year 2000, The Kanha National Park was acknowledged with best tourism friendly national parks award by the Dept of Tourism, Govt. of India.
Enjoy an adventure wildife tour in India with our holiday packages.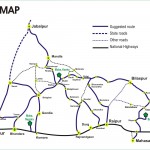 What a Story! Where is Kanha National Park located?
Kanha National Park is located in Balaghat and Mandla districts of Madhya Pradesh.
Balagath District… I have never heard of it. How can I reach there?
By Air: Travel by taxis, buses or cabs from Nagpur airport (266 km).
By Rail: Nearest Railway Station is Jabalpur (169 km).
By Road: After reaching Madhya Pradesh, take a bus from Mukki (25 km), Raipur (219 km) and Jabalpur (169).
I prefer trains. Any idea which is the best time to visit Kanha National Park?
The months of February and April are best as it gets too chilly during December and January and too overcrowded in March during Holi.
I am kind of on a tight budget. May I know what will be the total cost of Kanha National Park tour?
Jeep Safari: INR 3000 for foreigners and INR 1500 for Indians
Child rates: INR 2000 for foreigners INR 1000 for Indians
Guide: INR 150 for Indians and INR 400 for foreigners
Jeep and Driver: INR 1800
Note: For a party containing Indians and foreigners in jeep safari, the foreigner rate is charged.
Wow. I was not expecting to get off at such low rates! When does the park operate in a day?
Jeep safari (morning): 0530 hours to 1100 hours
Jeep safari (afternoon): 1400 hours to 1800 hours
And what all wildlife species I will be able to view during the Safaris?
Fauna: Tigers, Leopards, Wild Dogs, Wild Cats, Foxes, Jackals, Swamp Deer, Hard Ground Barasingha, Indian Gaur, Potted Deer, Sambar, Barking Deer, The Four-Horned Deer, Black Buck, Indian Wolf, Hyena, Sloth Bear, Langurs, Wild Boars, Fox, Hyena, Jungle Cat, Civets, Porcupine, Ratel, Honey Badger, Hares, Pythons, Cobras, Krait, Rat Snakes, Vipers, Keelbacks And Grass Snakes.
| | | |
| --- | --- | --- |
| Leopard | Wild Dogs | Barasingha |
I cannot wait to go there now. But I don't know where to stay once I reach there?
The best accommodations are the wildlife resorts and lodges in the area nearby to the Kanha National Park. Even though these lodges and resorts are a little too hard on the budget, still the comfort and experience provided by them will be entrenched in one's memory for a lifetime. The close proximity of the national park to these lodges and resorts allows one to view the wildlife just an inch away from their doorsteps! These resorts are even though not very high on providing many modern amenities but definitely they offer an up-close and personal insight into the rustic life of India and an escape route from the dull bustling city life. The organic food served in these resorts will be a pure delight to you as well. Some of the popular resorts are Baghira Log Huts, Wild Chalet Resort, The Kanha Jungle Lodge, Mumba Resort, Chitvan Jungle Lodge etc.
I am just about to book my Kanha National Park tour from indianholiday.com. Any last minute tips?
Yeah, you must take care of the following things:
Viewing tigers during Jeep Safari is difficult. For seeing the Royal Beast, book your morning tiger show (INR 200 for Indians and INR 600 for foreigners) in which you will be taken on an elephant to witness the tigers for 10 minutes.
Nature walks or bicycle ride around the park makes one adore the beauty of the park. If you missed watching the sunset at Bamni Dadar, you missed everything.
Private vehicles are not allowed in the park.
Enjoy your wildlife tour with Top 10 wildlife sanctuaries and National Park in India.
Thank you for all the Information.
Anytime, mate. Enjoy your Kanha National Park Tour.