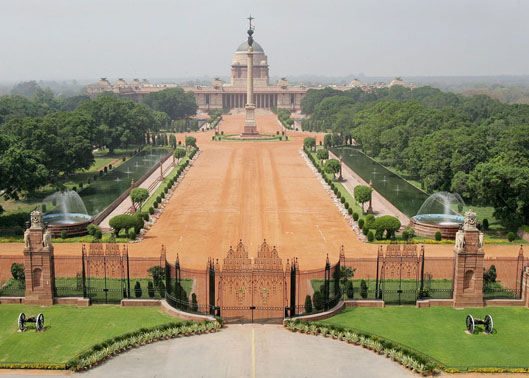 Whenever I think about India, only one thought comes into my mind, that this country is blessed by God with a huge amount of diversity in everything. It is one of the most well-known as well as one of the most -visited tourist destinations, all around the world. Diversity is a synonym of  India. Just a few days back, I came back from my Golden Triangle Tour, which was the best and I must add, the shortest way to experience the India's cultural best. The tour consisted of three popular tourist places- Delhi, Agra and Jaipur. Through this blog, I am sharing my experience with all:
Delhi- A Potpourri of Food, Cultures and People
A potpourri of food, cultures and people, Delhi is a city that is soaked in history. It has experienced the rule of various dynasties where every individual ruler brought his own cultural heritage, adding to the what the city already had. The ruins of the old-world can be seen standing in peace with the modern sky-high buildings of the city. All religions and traditions co-exist in a perfect harmony. During the tour, I visited some of the most famous attractions of both Old and New Delhi:
Rashtrapati Bhawan
India Gate

Rajghat

Red Fort
Qutub Minar
Purana Quila
Jantar Mantar
Lakshmi Narayan Mandir
Jama Masjid
| | | | |
| --- | --- | --- | --- |
| Rashtrapati Bhawan | India Gate | Rajghat | Red Fort |
| Qutub Minar | Purana Quila | Jantar Mantar | Lakshmi Narayan Mandir |
Agra- The Beautiful Medieval Mughal City
It will be no exaggeration to call this medieval Mughal city a timeless beauty. Agra boasts of being home to not only major UNESCO World Heritage sites but also to one of the Seven wonders of the world. These sites are also proof of architectural brilliance of the Mughal times:
Taj Mahal
Agra Fort
Fatehpur Sikri
| | | |
| --- | --- | --- |
| Taj Mahal | Agra Fort | Fatehpur Sikri |
Jaipur-The Embodiment of Royalty
Fondly known as the 'Pink City', Jaipur is the embodiment of royalty with all the buildings of the walled –city painted in pink. It houses some most magnificent palaces, forts, mansions and heritage properties. During my tour, I was actually taken back in the royal era. You can shop for some amazing traditional clothes, imitation jewelry and handicrafts, which you find nowhere else in the world. I visited some really stunning tourist attractions:
Jantar Mantar
City Palace
Hawa Mahal
Amer Fort
Birla Temple
Elephant Festival
Jaigarh Fort
| | | |
| --- | --- | --- |
| Jantar Mantar Jaipur | City Palace | Hawa Mahal |
| Amer Fort | Birla Temple | Elephant Festival |
Golden Triangle Tour is an excellent opportunity to explore three cities, which can be termed as cultural icons of the country. I got to experience three distinct and unique features in just one tour, which will be an unforgettable lifetime experience.
[Plan your Golden Triangle Tour with our exclusive packages.]