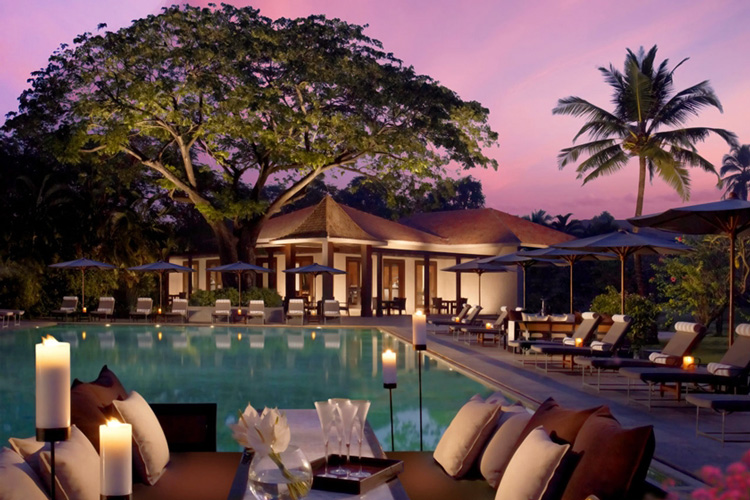 One of the most preferred tourist destinations in India, Goa welcomes thousands of tourists from all around the world to enjoy its picturesque beauty. Of late, Goa tourism has been advanced to meet the international standards of hospitality. To accommodate the continuous influx of tourists in Goa, various luxury hotels have surfaced in different parts of this tiny Indian state. These hotels are well-designed for honeymoon, families and business associates. Here's a list of top 10 luxury hotels in Goa for your kind perusal.
The Leela Goa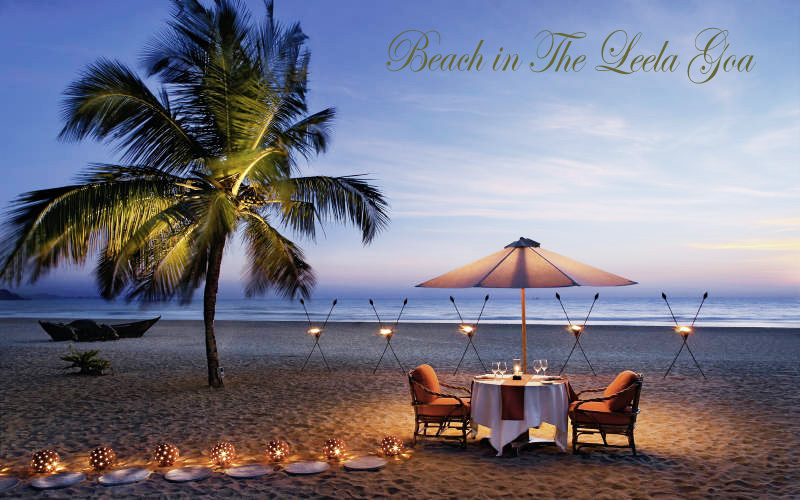 An impressive property located in the vicinity of Mobor beach, The Leela Goa is a five star hotel complete with a 24 hour casino, 12 hole golf course, water sports, swimming pool and a spa. The hotel has a picturesque private beach and is encompassed by lagoons all around the property. The 206 rooms in this hotel are segregated as Lagoon Rooms, Premier Rooms, The Club Rooms and Suites. Each room offers a great view, especially the ones on the ground level. For hosting parties and conventions, the resort has three multi-functional halls-Hampi, Badami and Aparanta. Other recreational venues include a tennis court, a golf course, children's activity centre and Aqua-The Entertainment Lounge.
Park Hyatt Resort and Spa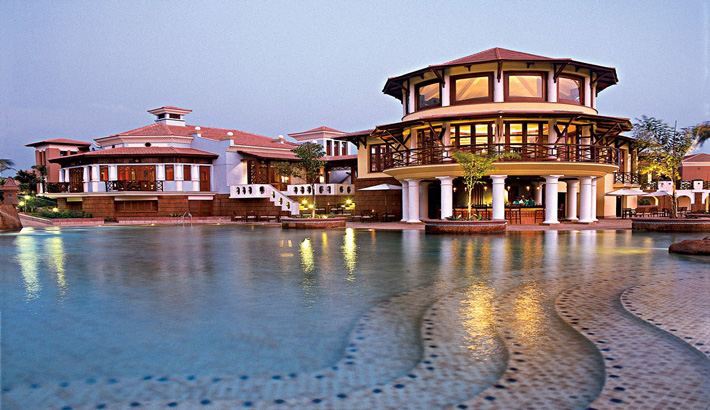 One of the top rated 5 star hotels in Goa, Park Hyatt Resort and Spa is located on the Arossim beach in South Goa, around 20 minutes away from the airport. It is home to one of the top luxury spas in India-'Sereno Spa'- which has received various awards such as "World's No. 1 Spa" and "Best Spa in the Asian and Indian Subcontinent". With Camp Hyatt program being a favorite for children, Park Hyatt Resort and Spa has a family appeal as well. The hotel features a huge swimming pool amidst beautifully landscaped gardens and an attractive long clean beach. Yoga sessions and water sports are other activities offered by the hotel.
Check out exclusive range of Goa holiday packages here.
Holiday Inn Resort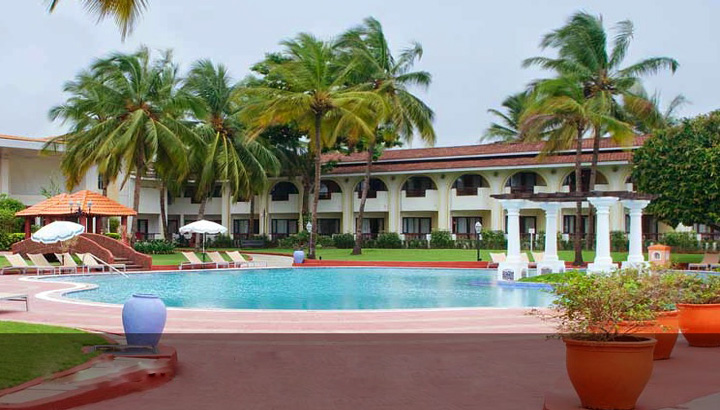 Located on the charming Mobor beach in South Goa, The Holiday Inn Resort is a heady mix of traditional Goan and contemporary architecture. The hotel has 203 rooms and suites, each of which has an attached balcony and offers an option of a garden view, pool view and sea view. The hotel has 3 multi-cuisine restaurants-Mardi Grass, Fig & Olive and Whispers of the Orient-serving delicious cuisines from India and abroad. There is also an option to unwind at the outdoor pool and revitalize at the Spa Villa offering multiple Ayurvedic treatments. The resort has a large ballroom, spread over 5065 square feet, with a capacity to accommodate up to 800 guests.
Cidade De Goa Resort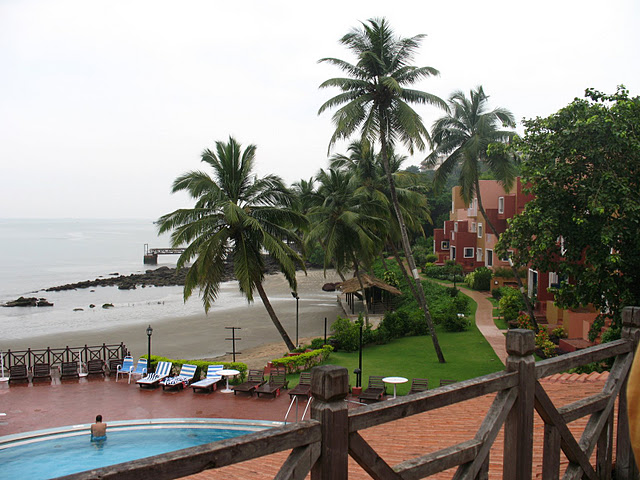 Spread over 40 acres of lush greens, Cidade De Goa Resort offers resemblance of an independent Portuguese hill village. The Portuguese style Goa beach resort is among the most renowned five star hotels in Goa. Whether it is a secluded honeymoon, an anniversary and a rejuvenation holiday, the beachfront resort is an ideal hideaway from the bustling life of Goa. Owing to its architectural grandeur, Cidade De Goa Resort has earned an international R.I.B.A award.
Goa Marriot Resort & Spa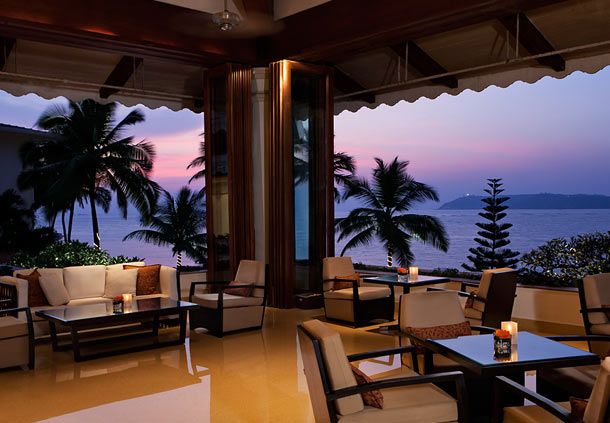 One of the finest luxury hotels in Goa, Goa Marriot Resort & Spa offers 180 guest rooms with modern amenities, restaurants and a lobby exhibiting Portuguese architecture. Each room is beautifully refurbished and offer picturesque views of the expansive bay and well-maintained gardens. The dining facilities include a transition lounge, an alfresco barbecue restaurant and 24 hour in room dining. With 14,144 square feet of banqueting space, Goa Marriot is a perfect place to organize important events.
Club Mahindra Resort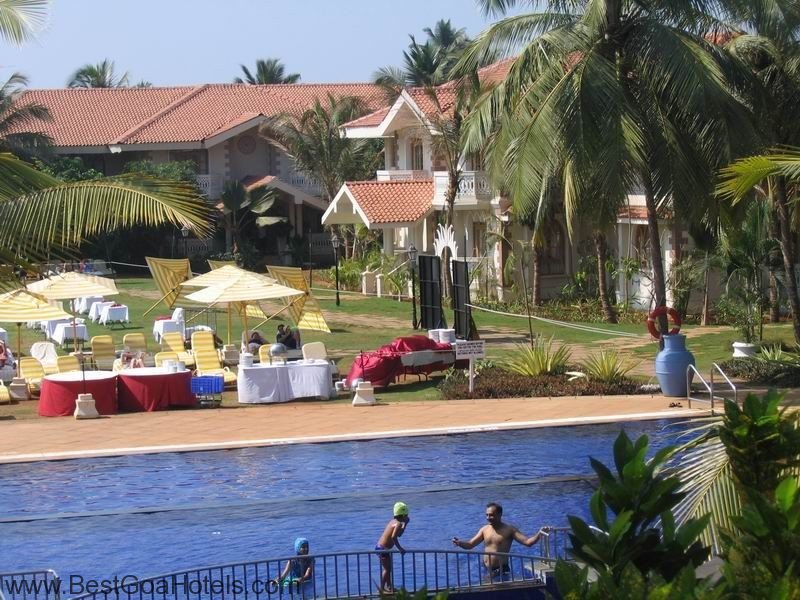 Located on the famous Varca Beach, Club Mahindra Resort exhibits traditional Goan architecture. The resort has 205 well-appointed luxurious apartments fitted with modern amenities, an a la carte restaurant, a Health Club and 2 swimming pools. Just like other five star resorts, Club Mahindra Resort is also replete with exquisite décor, luxurious comfort and a breathtaking view.
Fort Aguada Beach Resort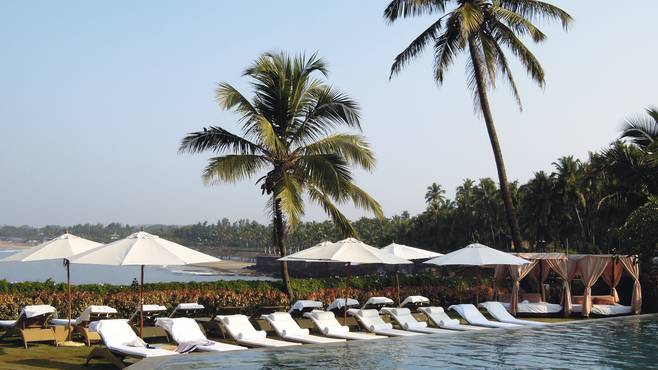 Constructed on the ramparts of the 16th century Portuguese Fort, Fort Aguada Beach Resort is a part of a wonderful fortress complex overlooking Arabian Sea. With its unmatchable grandeur and Goan-Portuguese architecture, the hotel treats its guests with a range of guest rooms, exotic beaches, nine restaurants serving delicious food and Jiva Spa offering rejuvenating therapies.
Baywatch Resort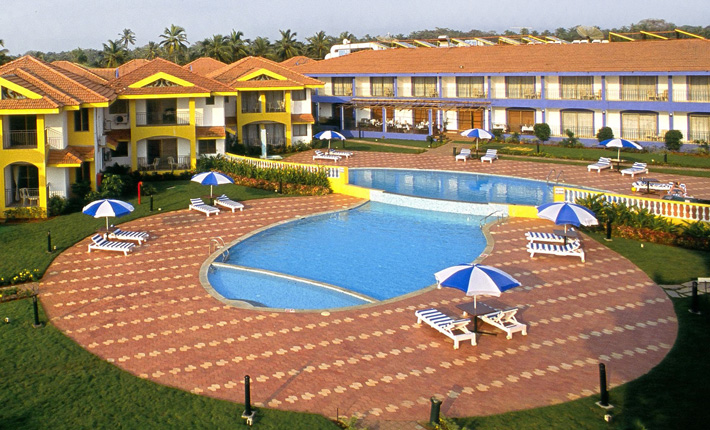 A 4 star standard beach resort nestled on the white sands of Sernabatim beach, Baywatch Resort is a perfect expression of Goan-Portuguese style. The guest rooms in this hotel are segregated as The Deluxe Rooms and The Suites. When it comes to dining, there is a multi-cuisine restaurant-Pam's Restaurant- which caters to the finicky of taste buds. Then there is Harry's Lounge which is a perfect place to chill out over a cup of tea.
Chances Casino and Resort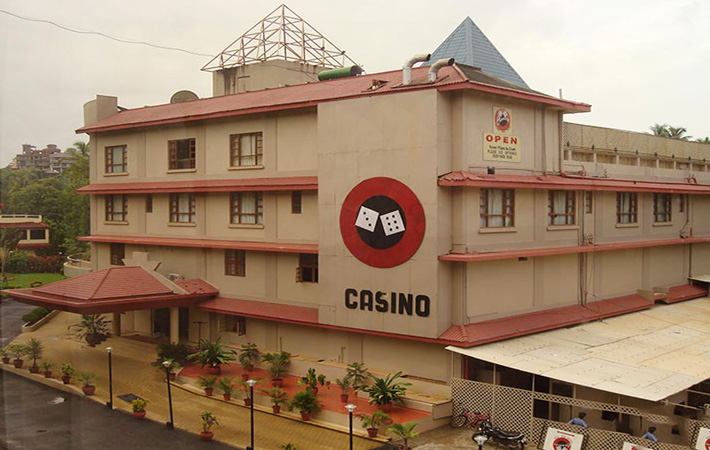 Formerly known as Vainguinim Valley Resort, Chances Casino and Resort is a leading 5 star boutique resort and one of the most sought after destinations in Goa. It is famed as the largest finest Casino in Goa. The resort is fully equipped with 53 guest rooms, 2 multi-cuisine restaurants, 1 poolside bar, business center and a conference hall for discerning tourists.
Dona Sylvia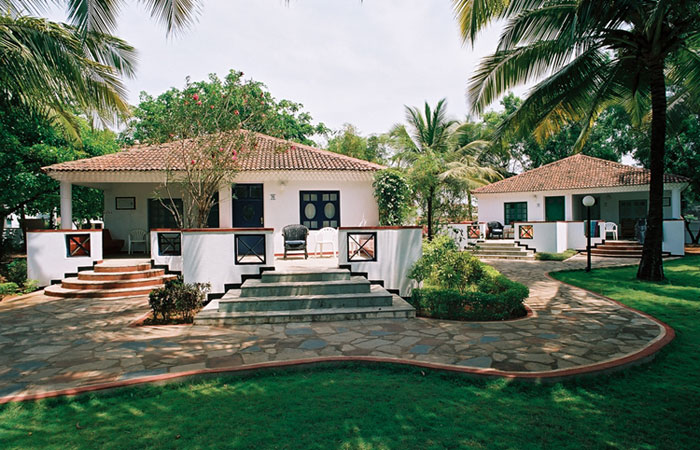 Spanned across 26 acres of beautifully landscaped gardens, on the southern coast of Goa, Dona Sylvia Beach Resort is a 181 room 5 star hotel located on the Cavelossim Beach. These rooms are classified as Superior Room, Deluxe Room and Suite and overlooks gorgeous sunset at immaculate Cavelossim Beach. For those looking forward to bask in the glory of sun-kissed beaches and nature's riches, Dona Sylvia Beach Resort is the ultimate name of luxury.