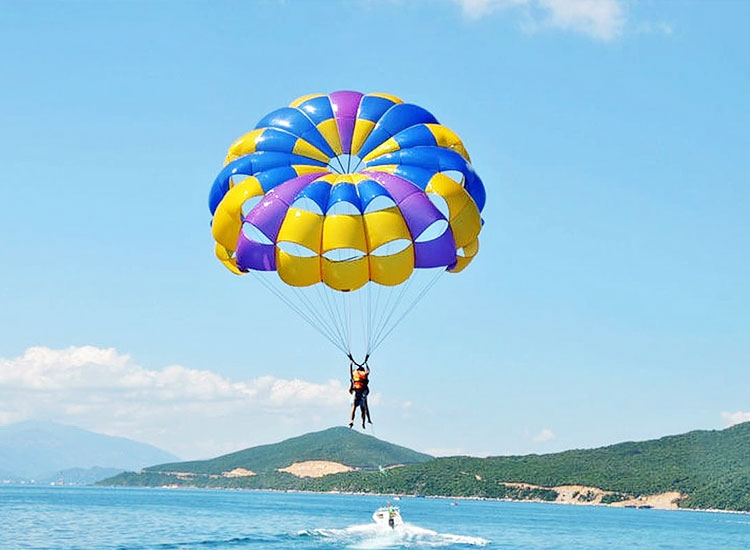 India's varied topography provides abundant scope for adventure, and it's hardly surprising that adventure sports and activities are gaining a rapid popularity with the people. Whether it's the thrill of crossing a challenging pass, battling a roaring river with its mighty rapids, undertaking an arduous climb on a steep hill – the challenges comes in various forms.
As adventurous activities gain a rapid popularity, so does their appeal. No more is their appeal restricted to only a few daredevils, amateurs too now look forward to their fair share of thrill and excitement. There are certain activities which can be tried even by novices, and that makes them all the more attractive. If you happen to be an adventure enthusiast, this blog is for you. In this blog, we bring you the adventure activities in India which are all the rage, and which you should try on your next vacation.
Trekking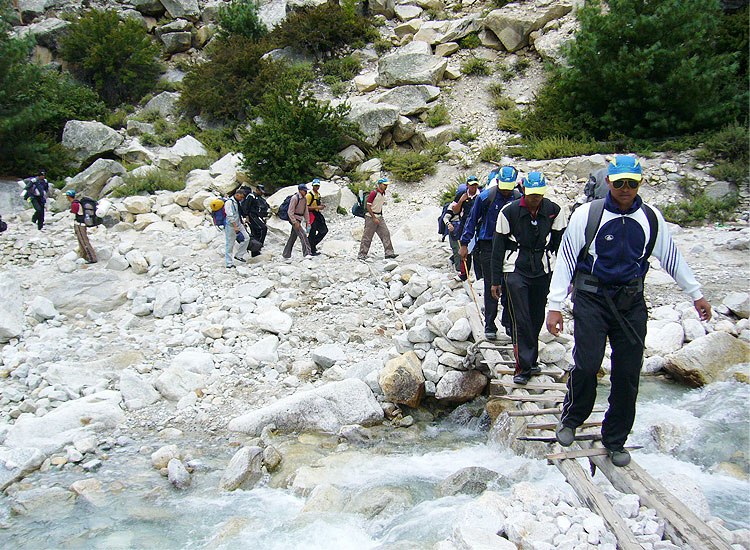 With a backpack slung around your neck, you set off to explore the various faces of nature by foot. Trekking is an enjoyable activity, albeit tiring at times. Trekking is one of the most popular sports in India. Along the way, you pass sights that fascinate and surprise you, and meet challenges that put your stamina and strength to the test. However, isn't that what a trek is all about?
Here are some of the important treks in India:
Chadar Trek, Ladakh
Roopkund Trek, Uttarakhand
Hampta Pass Trek, Himachal Pradesh
Valley of Flowers Trek, Uttarakhand
The Markha Valley Trek, Ladakh
Kedarkantha Trek, Uttarakhand
Sandakphu Trek, West Bengal
Chembra Peak Trek, Kerala
Rajmachi Trek, Maharashtra
Also Read:
10 Best Routes in India
Lesser Known Treks in India
Rafting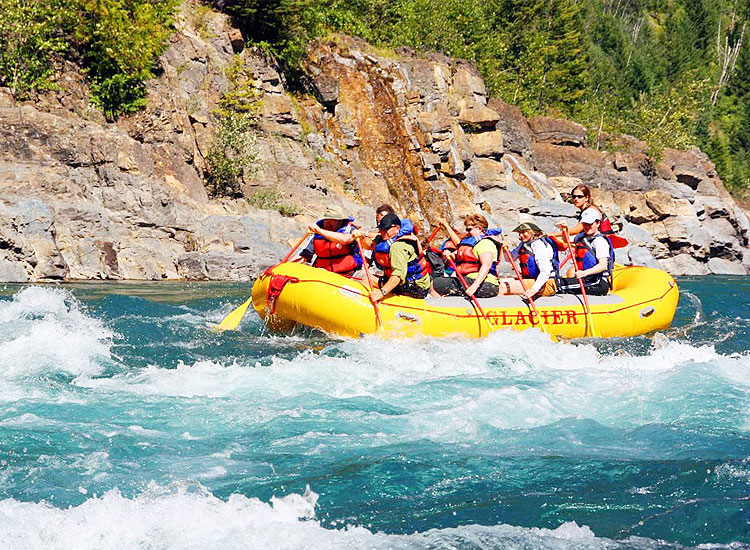 What makes rafting one of the top adventure activities in India? The thrill of battling the rapids, feeling your heart beating furiously at the challenges facing you, and gliding past spectacular sceneries along the way. To keep you company is your raft and your crew. Blessed with a great many rivers like the Indus, Ganga, Yamuna, Beas, Teesta and Brahmaputra, besides others, the opportunities for river rafting are plenty.
The most popular river rafting destinations in India are:
Indus River, Jammu and Kashmir
Kullu-Manali, Himachal Pradesh
Yamuna River, Uttarakhand
River Ganga, Rishikesh
Teesta River, Sikkim and Darjeeling
Brahmaputra River, Arunachal Pradesh
Kundalika River, Maharashtra
Zanskar River, Jammu and Kashmir
Skiing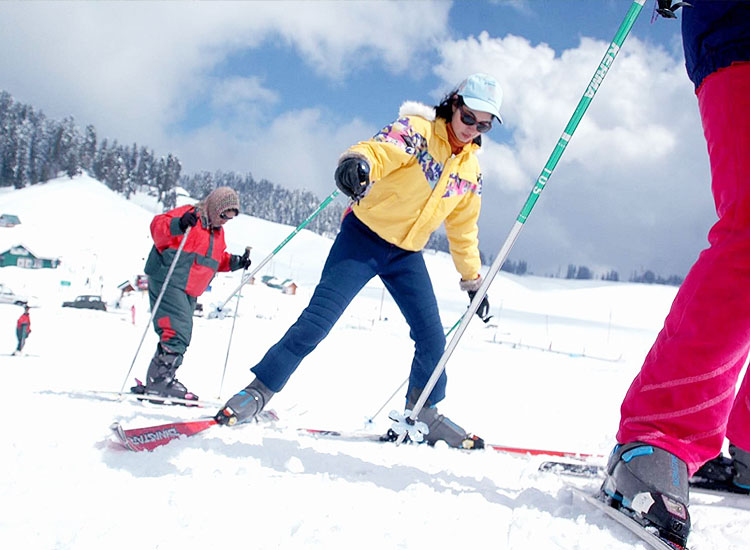 When it comes to a sport that floods your body with adrenaline and gives you a rush like no other, it has to be skiing. After all, what is not exciting about dashing down a mountain slope dressed in snow with your skiing gear and enthusiasm to keep you company. From Gulmarg, which holds a popularity of being one of the best skiing destinations in India to Manali, with its gorgeous slopes, there are a lot of options when it comes to enjoying this sport.
These are the most famous skiing destinations in India.
Pahalgam, Jammu and Kashmir
Gulmarg, Jammu and Kashmir
Solang Nala, Himachal Pradesh
Auli, Uttarakhand
Narkanda, Himachal Pradesh
Mundali, Uttarakhand
Kufri, Himachal Pradesh
Dayara Bugyal, Uttarakhand
Munsiyari, Uttarakhand
Manali, Himachal Pradesh
Paragliding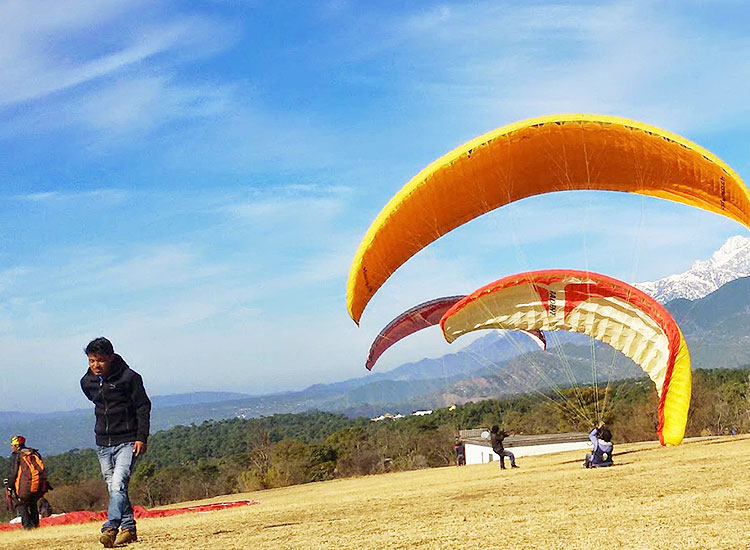 Paragliding is one of the most thrilling adventure sports in India. Sitting on your harness, the world below seems quite fascinating, some of it appears flat, while some seems to move in a gradual motion. What makes this activity so popular with the people is that it can be tried even by amateurs, after observing a few safety precautions.
Paragliding is most famous in these places across India.
Bir Billing, Himachal Pradesh
Sikkim, India
Rishikesh, Uttarakhand
Pavana, Maharashtra
Nandi Hills, Bangalore
Shillong, Meghalaya
Yelagiri, Tamilnadu
Nainital, Uttarakhand
Arambol Beach, Goa
Angling
Although quite similar with fishing, angling is different in that fishing is done by means of an "angle" (fish hook). Angling, one of the adventure things to do in India, is as much an enjoyable activity as an endeavour in patience. Lying in wait for a catch, and upon landing one, feeling that surge of excitement throughout your body, is all a part of this exciting sport.
Here are the most popular angling destinations in India.
Tirthan Valley, Himachal Pradesh
Pasighat, Arunachal Pradesh
Bheemeshwari, Karnataka
Ramganga River, Uttarakhand
Pabbar Valley, Himachal Pradesh
Scuba Diving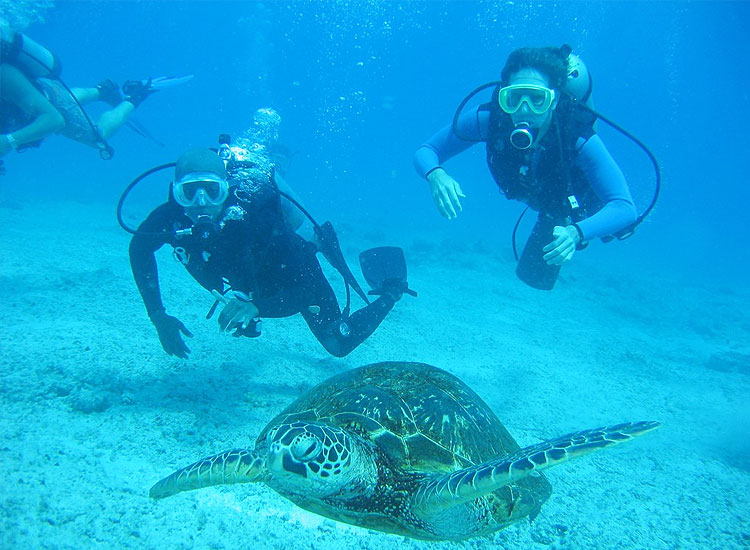 Scuba diving is adventurous as it gets. The marine world holds plenty of wonders waiting to be explored and discovered. Exploring the coral reefs, swimming with a school of fish and discovering rare species of marine life, who knows what the next scuba diving may bring? So gear up, take a dive and lose yourself in the wonders of the water-world.
Scuba diving is most popular in the following destinations.
Andaman and Nicobar Islands
Lakshadweep Island
Pondicherry
Karnataka
Kayaking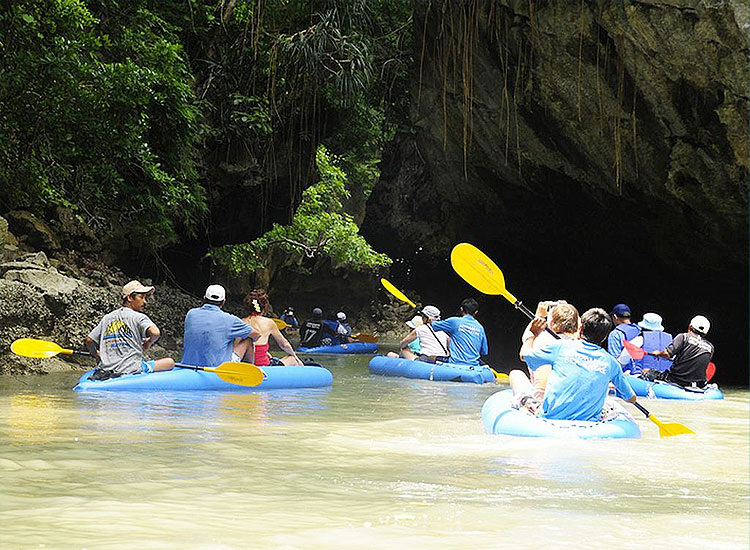 Another adventurous water-based activity is kayaking. Paddling through spectacular sceneries and watching the landscape unfold before you is quite a delightful experience. This sport is gaining a rapid popularity in India, thanks to its numerous rivers with their fascinating rapids. With proper safety and precautions, kayaking can be a highly adventurous activity.
These places are most popular for kayaking in India.
Brahmaputra River
Beas River
Kali River
Bhagirathi River
Tons River
Teesta River
Surfing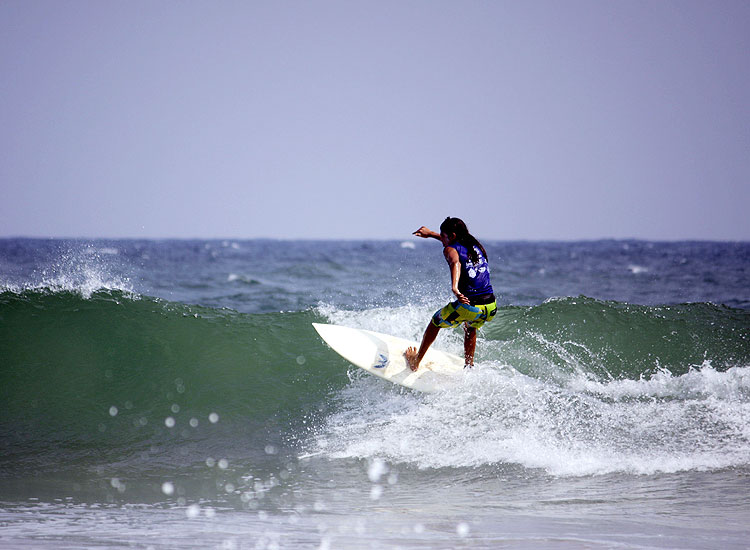 The waves come one after the other, greater in their intensity and size, and yet, the surfer must overcome them all. Surfing is not just a sport, but also an art. In India, surfing, although not as common as the other sports, is gradually gaining a fan following. However, there are some destinations where surfing is pursued with enthusiasm.
The following destinations are mostly popular for surfing.
Ten Thousand Peaks, Karnataka
Manapad Point, Tamil Nadu
Varkala, Kerala
Kapu Beach, Karnataka
Mahe, Kerala
Paradip, Odisha
Windsurfing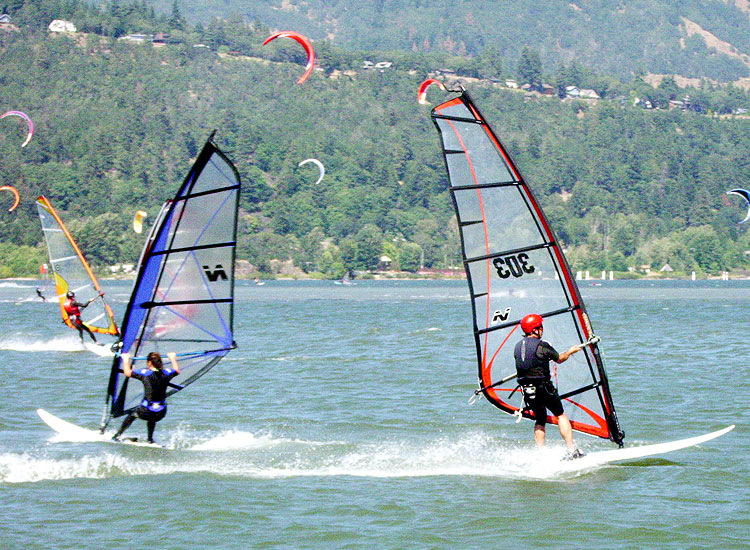 Robby Nash, windsurfing's legendary champion, once referred to this sport as "surfing's ginger-haired cousin". This surface water sport, which combines elements of surfing and sailing. In India, windsurfing has not become as popular as the other water sports. However, there are certain areas in this country where one can enjoy this water sport.
Windsurfing is most popular in these destinations across India.
Goa's beaches (Dona Paula, Calangute)
Mumbai (off Cuffe Parade, Chowpatty, Juhu and Marve)
Pune (Pawna, Panshet, Mulshi, Khadakwasla)
Camping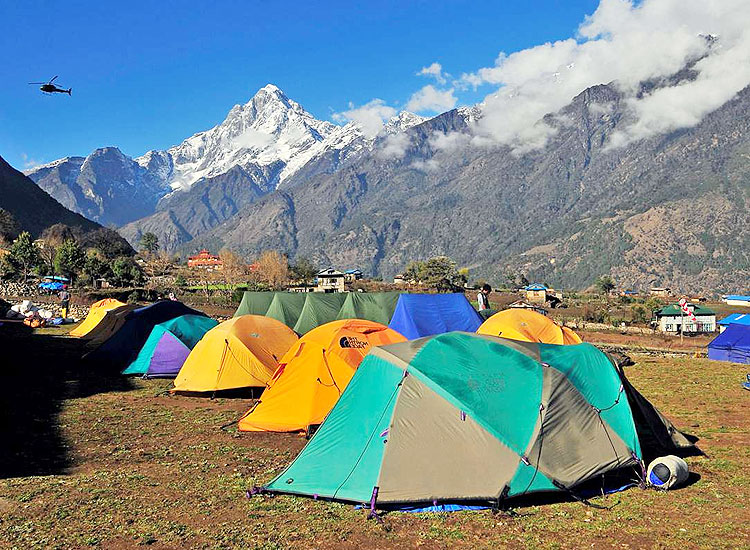 Camping, one of the most popular adventure activities in India, is the best way of placing yourself in the lap of nature and exploring the surrounding areas. In India, camping enjoys an enormous popularity. Its diverse topography allows one to have varied camping experiences. Camp under the stars, in the middle of the desert or on a valley, every camping experience is different from the other.
Camping is best enjoyed in the following destinations in India.
Jaisalmer, Rajasthan
Spiti Valley, Himachal Pradesh
Manali Solang Valley – Himachal Pradesh
Anjuna, Goa
Sonamarg, Jammu and Kashmir
Pushkar, Rajasthan
Bike Trip Leh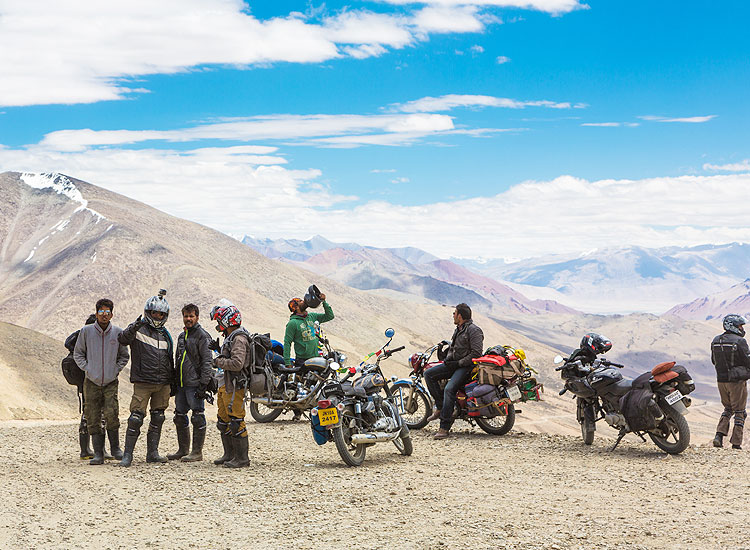 A bike trip across Leh is the epitome of adventure and thrill. Riding pass the rugged landscape takes you past landscapes you didn't even know existed. The road is full of constant surprises. Monasteries, lakes, passes and the local cuisine, there is much to delight you. A bike trip to Leh is all you need to quench your thirst for adventure.
[Explore the best of Ladakh with this package.]
Parasailing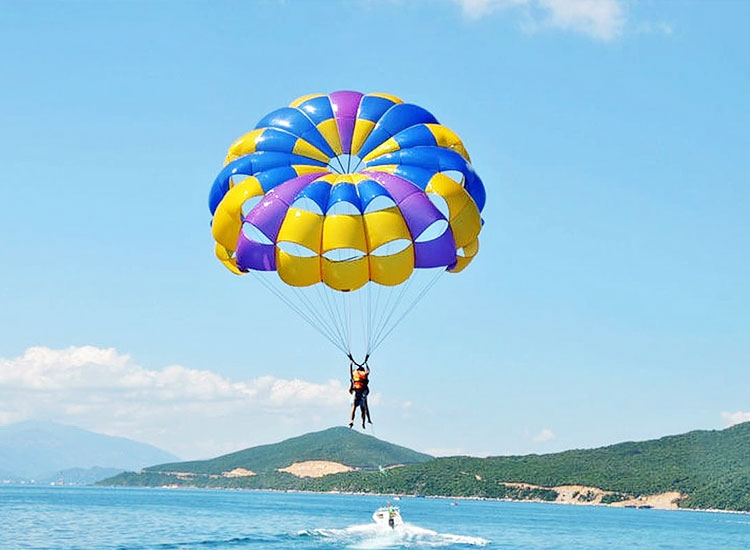 Sometimes, being towed away can be fun too, like in parasailing. In this sport, you are harnessed to a parachute which functions like wings, which is then towed by a jeep or a speed boat. In India, the sport of parasailing is also gaining popularity simply because there is a lot of scope for it, and it makes for a very thrilling activity.
Parasailing can be enjoyed at the following destinations.
Himachal Pradesh
Uttarakhand
Rajasthan
Maharashtra
Kerala
Cycling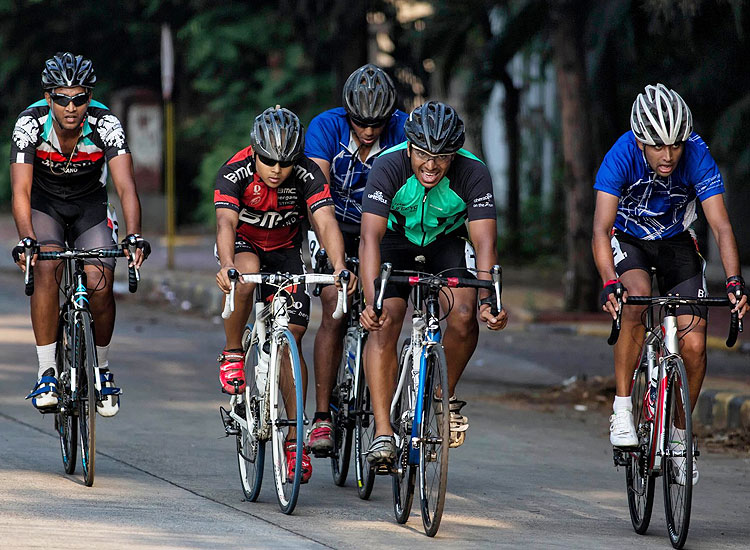 Cycling is one of the top adventurous activities in India. There is something meditative about the rhythmic use of the brake, wheel and pedal. Cycling also lets you enjoy the silence of those valleys and passes when on an expedition, or explore a place at your own leisure without worrying about running out of fuel. In India, cycling enjoys a great fan-following, thanks to its numerous routes and trails.
Cycling is best enjoyed in the following destinations of India.
Chennai to Pondicherry
Mumi to Daman
Rameshwaram
Mangalore to Goa
Mumbai to Trivandrum
Leh to Khardung La
Gangtok to Nathu Lap pass
Shillong to Cherrapunji
Caving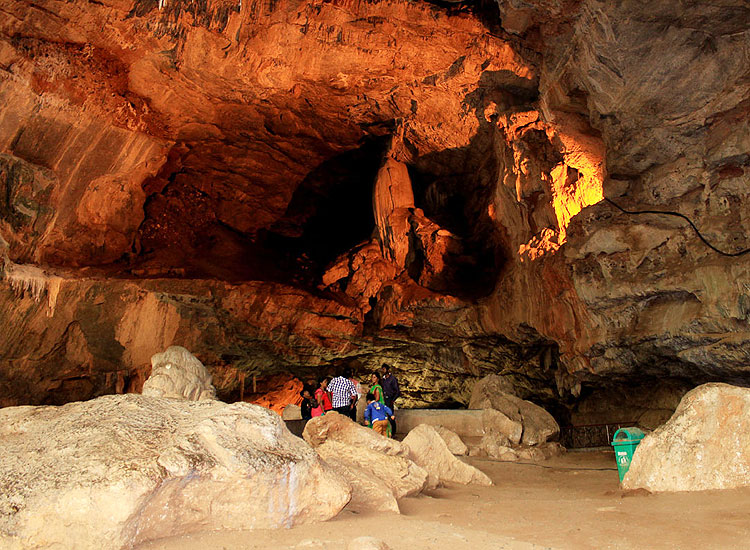 What lies inside the belly of a cave, I wonder, what secrets it holds inside it? These and other similar thoughts have always arisen in our minds on the sight of a cave. Caving, which is essential exploring caves, is the answer to all these questions. India is also home to several caves, some of which houses natural wonders while some contain drawings and sculptures dating back to a historical period.
If you love caving, these are the destinations in India worth checking out.
Ajanta and Ellora Caves,
Badami, Karnataka
Tabo, Himachal Pradesh
Trichy Rock Fort Temple and Pallava Caves
Dungeshwari Cave Temples, Bihar
The caves of Meghalaya
Hot Air Ballooning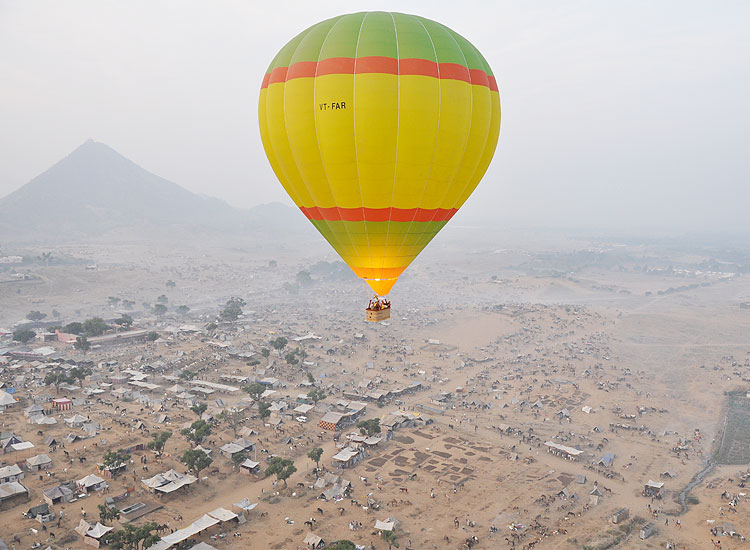 There are many ways of soaring high in the sky, but none of them is as enjoyable as hot air ballooning. What sets it apart is the solitude that comes with it and the great heights to which the hot air balloon ascends. The views from above are simply exhilarating. In India, there are certain places where you can enjoy this activity. Take a ride in it and you will know what the hype is all about.
Maharashtra
Karnataka
Rajasthan
Delhi NCR
Uttar Pradesh
Goa
Camel Safari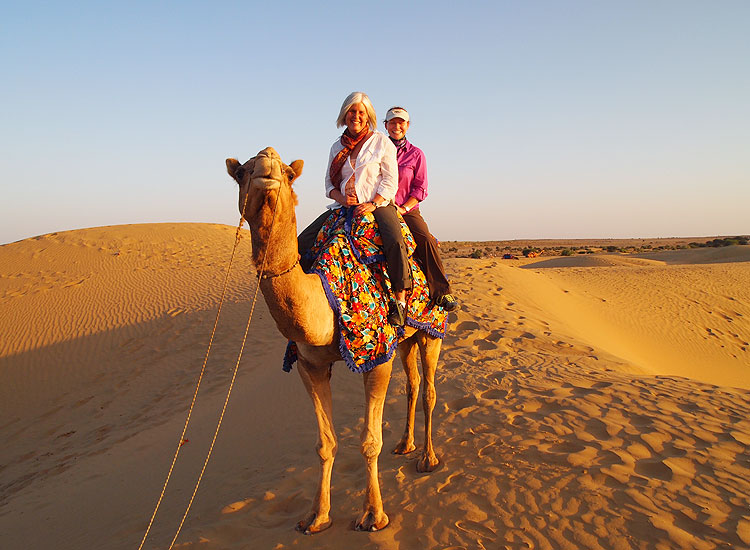 Camel safari is one of the adventurous things to do in India. Sit on a camel's back as it takes you past the landscapes of the desert. In India, there are certain states where one can enjoy this activity. The bumps felt along the ride as the camel walks ahead with slow, heavy steps is part of the fun. Just remember to thank both the camel and the driver after the ride.
To enjoy a camel safari in India, head to the following destinations. 
Ladakh
Jaisalmer
Mandawa
Bikaner
Pushkar
Wildlife Safari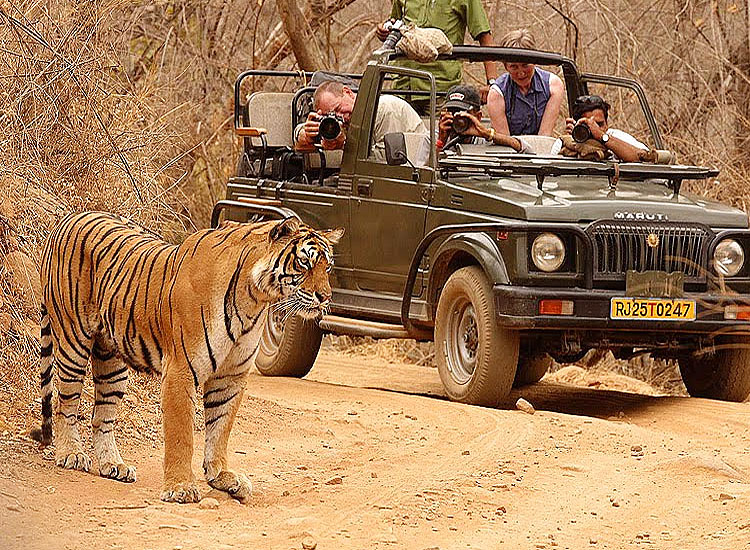 Indian forests are home to an incredible variety of wildlife, and one can witness most of it in its famous national parks and sanctuaries. Whether on a jeep or an elephant, watching the various forms of wildlife is as thrilling as it gets. From Kaziranga National Park to Gir National Park, a wildlife safari in India is full of surprises and excitement.
Wildlife safari is most popular in these destinations in India.
Gir National Park, Gujarat
Hemis National Park, Jammu Kashmir
The Great Himalayan National Park, Himachal Pradesh
Periyar National Park, Kerala
[Read about top 10 wildlife sanctuaries and National Parks in India.]
Bungee Jumping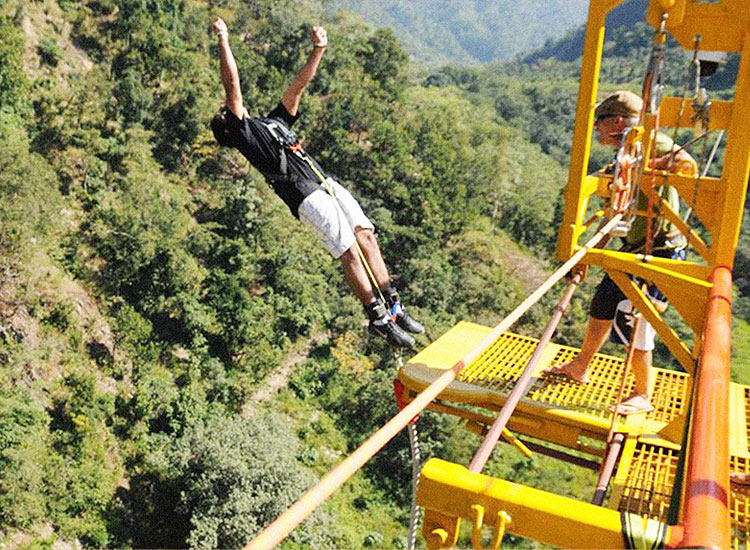 [
Abandon all fear and try bungee jumping, which is jumping from a tall structure while being tied to an elastic cord. There is no beating this activity when it comes to experiencing an adrenaline rush. Bungee jumping is popular in India too, and is attracting more fans with each passing day.
These places are most famous for bungee jumping in India.
Rishikesh
Bangalore
Lonavala
Goa
Jagdalpur
Flying Fox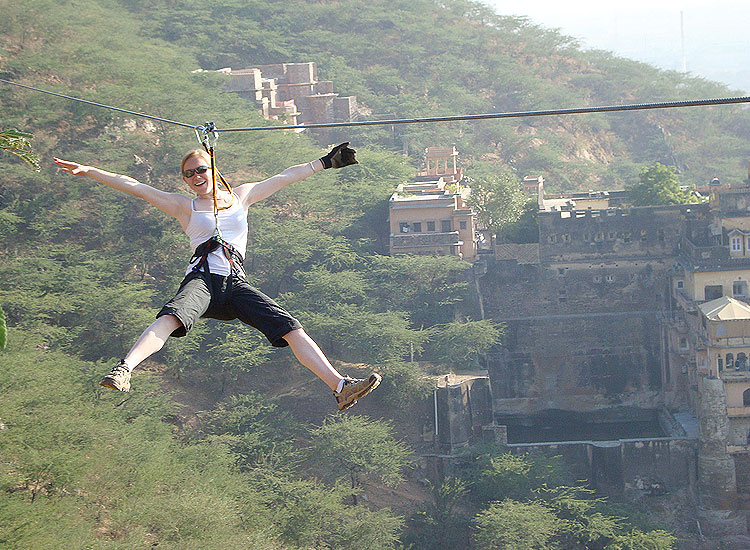 Flying fox, also known as zip-line or zip-wire, is one of the most exciting activities to try out. Flying across one end to the other while grabbing a handle, and watching the views below, is both thrilling and exciting. Flying fox is popular in India because it hardly requires any particular training and is as enjoyable as it gets.
Check out these flying fox destinations in India.
Cable car ride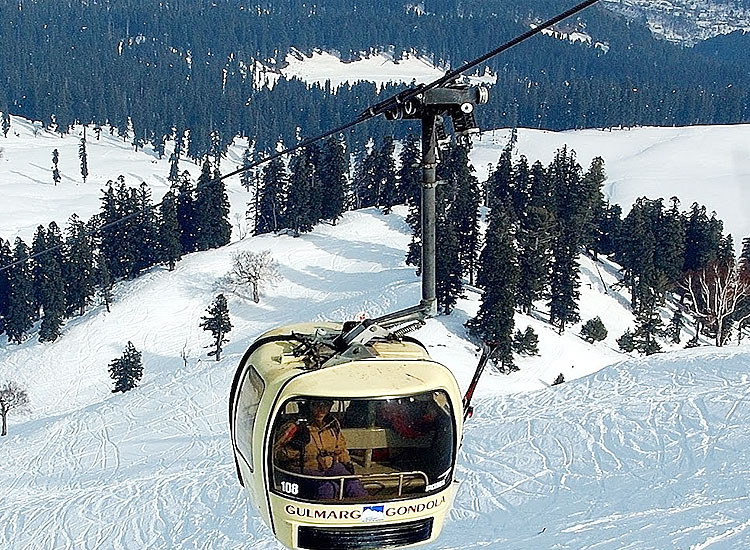 When it comes to the most popular adventure activities in India, cable car ride occupies a prominent position. The aerial views of the landscape provided by a ride in this car are simply marvellous. Whether it's the views of snow-clad mountains, waterfalls or the fabulous landscape, this ride is all about unlimited joy.
Check out these cable car ride destinations in India.
Raigad
Darjeeling
Solang Valley, Manali
Visakhapatnam
Manali
Jabalpur
Srisailam
Snorkelling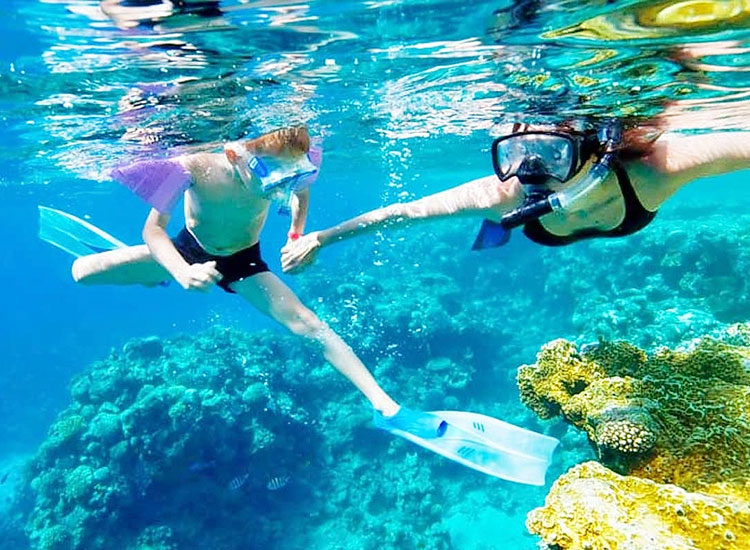 Snorkelling is another way of exploring the wonders of the underwater world. It's more attractive than scuba diving because it hardly requires any professional expertise and training. Just strap on your mask, swim fins and oxygen tank, and you're ready to go. There are a few destinations in India where snorkelling can be enjoyed. Swim with the fishes, enjoy the fabulous views and even discover shipwrecks.
Andaman Islands
Maharashtra
Lakshadweep
Karnataka
Goa
Pondicherry